Jones stands tall in Vegas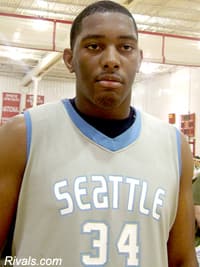 Thinking long term it is hard to come up with a better prospect in the 2010 class. Jones has all the offensive skills of a high level four man, and then defensively he can both dominate around the rim and guard out on the perimeter. The knock right now is that he will take some plays off, but if the effort improves with some coaching down the line, Jones can be a dominant player at the highest level.
In a loss to the Arizona Magic, he registered 14 points, seven rebounds and three blocks while playing almost exclusively on the perimeter.
Head coaches from Washington, UCLA, Kansas, Gonzaga, California and Louisville were courtside for this game.
[rl]