Jones down to seven, but wont tip hand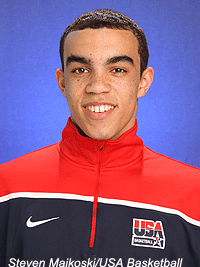 GARDEN GROVE, Calif.
-- Five-star point guard
Tyus Jones
says his list is down to seven. No favorites, no leaders, no one school ahead of or behind another; he's just down to those seven.
Yet according to Twitterverse, the rumor mill and the recruiting blogs, his list of seven is just posturing for now.
Duke
, they all say, is his leader.
"That's not true," Jones promised at last weekend's EYBL event in Los Angeles. "A lot of people are talking and stuff like that, but I'm not leaning anywhere."
That doesn't mean one school can't eventually pull ahead of the others sometime soon, however.
Jones said schools finally started to have that opportunity two weekends ago, when four of his seven leaders stopped by his house to give their best pitch.
Duke came on a Friday night, Baylor came Saturday morning, Ohio State came Saturday night and Michigan State came Sunday. Jones commented on each:
On Duke: "We had a good visit with them. Talked a little about why they feel I would fit in their program and stuff like that."
On Baylor: "I also had a good visit with them. They were just pitching to myself and my family why they think I could fit in their program and the perks of going to Baylor and stuff like that."
On Michigan State: "It was another good visit."
On Ohio State: "We also had a great visit with them. We had a great time with all of the colleges. It was really all the same - myself and my family have a great relationship with all the coaches. So it was really relaxed and nothing too tense or anything like that."
Still, with all those coaches in his home, throwing out their best recruiting spiels, Jones remains reluctant to place one school over the other.
It'll be a long process for Jones to start weeding out the schools he likes from the schools he doesn't. He's not sure of official visits yet, or even unofficials for that matter, and outside of an in-home he was slated to have with Kansas sometime this week, nothing is planned on that front either.
For now, he's just trying to play well on the AAU circuit, and figure out somewhere along the line what school he'll eventually commit to next fall.
"I'm pretty equal with all seven schools," Jones said. "So the decision will be tough."

Click
Here
to view this Link.
[rl]