Johnson on the precipice of R150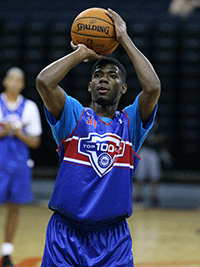 A tough, high-scoring 6-foot-3 combo guard from Richmond (Va.) Benedictine, Johnson looked very strong against many of the nation's top guards in Charlottesville.
"I think I did a pretty good job," he said. "I just go out there and try to play hard every possession."
It's that playing hard that sets Johnson apart. Yes, he can get to the rim with a quick first step and yes, he can get hot from deep. But most of all he goes at his opponent full speed on both ends and doesn't let up.
In the past he would settle for jumpers a little too much, but now he's all about making sure he is attacking the rim as well.
"I try to keep that in my mindset," Johnson told Rivals.com about driving to the hoop more. "Especially when I miss a couple of shots, I try to get in there and get fouled or get to the basket. Create for somebody else and get myself going."
Johnson is a scorer by nature but is capable of running the point or playing strictly as a shooting guard. Long term, he thinks he might want to develop his point guard skills a bit more, but for now he's comfortable being recruited as a one or a two.
"There aren't a lot of schools saying I have to play either one of the positions," he said. "They say I will have the opportunity to play either."
"Right now, it's still open going into the last live period of July," he said. "So, yeah I'm still open."

[rl]