Johnson close to narrowing things down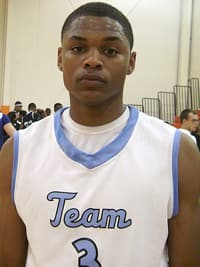 One of the better uncommitted prospects at the point guard position in the 2011 class is
Tyrone Johnson
. The Plainfield (NJ) native knew he had a bright future both on the gridiron and on the hardwood, but now he is focused on hoops, and is close to narrowing things down in his recruitment.
At 6-foot-3 and 185 pounds, Johnson is one of the more physically impressive point guards around. Now the No. 69 player in the country is turning himself from more of an athlete into a complete basketball player.
"I am now concentrating on basketball, and I wanted to put the football down because I knew I was going to college for basketball," said Johnson. "I feel I was always good at basketball, but now I am getting better and better, and I am trying to keep going."
When it comes to his recruitment things are really picking up for Johnson, and a few schools are doing their best to stick out as he goes forward in the process.
"It is the Big East and the ACC, basically everybody right now," said Johnson. "I haven't heard from Duke or North Carolina, but basically everybody else."
He continued, "Everybody is showing me a lot of attention, but if I had to say there are some schools recruiting me the hardest it would be Villanova, Georgetown, and Rutgers. There are a lot of schools, so I can't say I have a top school."
The Georgetown Hoyas have been a school that has known about Johnson for quite a while, and they continue to be high on his list despite the departure of assistant coach David Cox to Rutgers.
"Georgetown, I have been recruited by them since the beginning by Coach Cox," Johnson said. "Georgetown is a little bit different because they run a slower paced offense, but I feel like I am a guy who can control the game. Georgetown has been there since I was an eighth grader and they are pushing hard."
Now that Cox is at Rutgers, the home state Scarlet Knights have become a factor in his recruitment.
"Rutgers is the home state school," explained Johnson. "Those guys are trying to rebuild, and they are looking for players who can turn the program around. Coach Mike Rice wants me to come in and be that guy. They have a new coach and I am taking a close look to them."
Also close to Johnson's South Jersey home is Villanova. The Wildcats have made a living out of good guard play for the past decade or so, and that is something that has made an impression on Johnson.
"Villanova is a guard school," said Johnson. "They have a great coach in Jay Wright, and they run my style which is a pick and roll and fast paced offense. Watching their guards play I think I fit in. Villanova is just a real good guard school."
While Johnson still doesn't know exactly when he will make his choice, he does plan on cutting down his list soon.
"I don't know yet," Johnson said. "I am still undecided. I will probably cut my list down to five in like a week or so."
When it comes to make his final decision, Johnson is still open, but he does know what will be important to him when the time comes.
"I am looking for a place where I can play right away, how long the coach will be there, what type of style, education is very important, and things like that," said Johnson.