John Wall Invitational: Evans' Wednesday Takeaways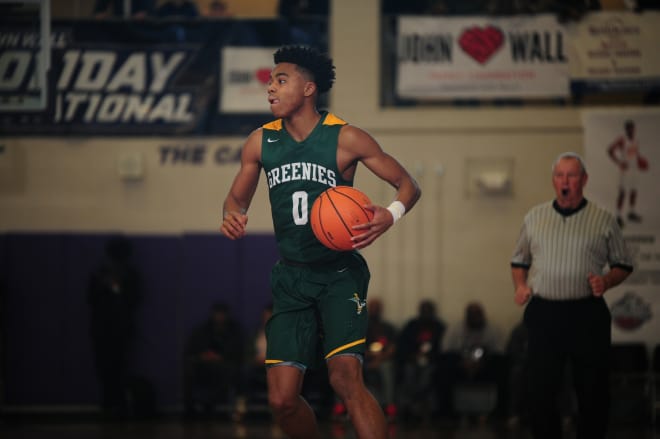 RALEIGH – A few more days until the New Year, the John Wall Holiday Invitational gave one last chance for some of the top players from the high school ranks to finish the year off on a strong note. Leading his team to a hard-fought victory, Jalen Lecque remains influx on a potential reclassification, Coby White is an elite starter of the Carolina break, and Greg Gantt remains one of the most undervalued juniors in America.
RECLASSIFICATION ON JALEN LECQUE'S MIND
When we talk about quick twitch athlete and box score fillers, no one defines these traits better than Jalen Lecque. To think at this very moment last year, zero power conference programs had yet to offer the New York native is downright stupefying. After deciding to reclassify into the 2019 class in the spring, not only has Lecque's game hit the next level, but his recruitment has gone from mid-major and is now touching the blue blood spectrum.
A 6-foot-3 playmaker that is still evolving into the primary guard position, Lecque remained at his best putting the ball through the basket thanks to a deadly first step which enabled for him to get to the basket at will. One of the best athletes in high school basketball, if not the very best at the guard position, Lecque is, just how Trae Young has become at Oklahoma this winter, must-watch each time that he hits the floor.
Despite struggling to find his jumper on Wednesday, Lecque remained ultra-productive finishing with 19 points, eight rebounds and three assists. Following his contest, he spoke the potential to reclassify back into his original 2018 class and thus, enroll in college next fall. "A lot of schools want me to reclass up and it is just something to think about," he said. "I don't know yet but Maryland, especially, wants me to go up and reclass up for them because they like me a lot and have shown me a lot of attention."
WHITE THE IDEAL STARTER OF THE CAROLINA FASTBREAK
There are going to be questions surrounding who can and will run the point guard position for the North Carolina basketball program next season. Joel Berry will be completing his prestigious career this spring and with it, a giant void will be left at the most important position on the floor. From now until then, Roy Williams might be hoping that freshman guard Jalek Felton can show some life in the playmaking department, though he has been primarily known for scoring over passing during his prep career.
Who could overtake the reigns at the point guard spot next winter? Try top-30 guard Coby White. The only issue is that White thinks score the majority of the time, though his scoreboard touching capabilities are among the best in the 2018 class, all of which was emphasized on Wednesday.
Erupting for 46 points and getting to the foul line 21 times, White's confidence is never an issue, regardless of whether he has missed and made his past few attempts. One of the quickest first steps in America, there isn't a guard better suited for the Carolina fastbreak than Coby White, a four-star guard that will push Roy Williams to make his early offensive the central portion of his team's success next season.
For UNC fans, think of White as Collin Sexton light. The Alabama freshman star, known for his scoring and ability to get to the foul line in heavy douses, is very similar to White where each bring great emotions, quickness and an entertaining flair to the backcourt. The Greenfield School product may hit a bit of a freshman wall next season in Chapel Hill and evolving into at least a secondary playmaker could only help his cause in earning good minutes early on. Whichever the case, scoring the ball won't be an issue during the 2018-2019 campaign for the Tar Heels as White brings a dependable skillset and confident scoring approach to the floor each time out he hits the court.
RECRUITMENT HEATS UP FOR GREG GANTT
Joey Baker has taken up most of the attention surrounding the Trinity Christian School program this fall and while the early Duke pledge deserves everything that comes his way, a greater spotlight needs to be given to Greg Gantt. A 6-foot-8 junior that thrives in the small ball power forward role, Gantt checks many of the boxes that high-major coaches are scouring the country for in finding prospects to recruit.
A relative unknown to those from outside of his North Carolina locale, word is just beginning to spread about the talented and versatile Gantt. One of the top passers in his class, regardless of position, Gantt is a hybrid forward that can finish through contact, create for others and defend three spots on the court.
Finishing his team's contest on Wednesday with totals of 18 points and 11 rebounds in just 23 minutes of action, Gantt is on the cusp of his break out as a number of college programs are beginning to prioritize. "Newer ones involved are Ohio State, Xavier more often, and I have been talking to Oklahoma a little bit," he said. "Providence has been on me for a minute and they have stayed on me. I have heard from UConn a lot since they offered me at the beginning of the season and I have been talking to Virginia Tech and Florida a little bit, too."
Expect for the recruitment of Gantt to only heighten as more eyes are laid upon him. He fits the mold of the athletic power forward in smaller lineups and with the frame and motor already in tow, it won't be long before his name rises up the rankings and his offer list expand into the double digits.