Jennings, SCA win LV Easter Classic again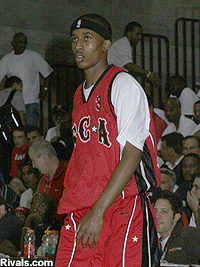 The spring basketball season was a busy one as three major tournaments tipped off the action from coast to coast. Outside of the Boo Williams Invitational and the Real Deal on the Hill, Vision Sports' Las Vegas Easter Classic was also going on and
Brandon Jennings
picked up where he left off from last year's AAU season.
Jennings, the nation's top point guard, did what he always does. He piloted the Southern California All-Stars to the championship. The five-star prospect scored 28 points in SCA's 65-54 win over Branch West Reebok for the title.
Perhaps the biggest news from the tournament was Jennings's decision to re-open his recruitment from Southern Cal.
"How solid is it? It's not solid at all. My options are open to three schools - USC, UConn and Arizona," Jennings told GOAZCATS.com. "I want to go on visits to make sure this is what I really want to do. I want to go visit UConn and see how cold it is, I want to go visit Arizona and see how hot it is. I just want to make sure it's the right decision."
Jennings handled every big time match up he faced with great poise, according to eyes that were at the event. Paired against fellow five-star guard
Willie Warren
of Team Texas, Jennings scored 23 of his game high 30 points in the second half. Warren's Team Texas club won 85-78 in the pool play game.
According to college coaches, Jennings made jump shots, which was one of the few questions about his game to begin with. Overall, it was a third straight Las Vegas Easter Classic championship.
Branch West rode the play of power forward Tyreese Breshers, a 6-foot-7 power forward from Price High School in California. The three-star forward is coming on at the right time and should see his recruitment expand over the next couple of weeks.
Team Texas rode great play from Warren all weekend. He made shots, attacked the rim and played his aggressive style of play. Warren had help from backcourt mate
Rotnei Clarke
, who did what he does best and lit up defenses with great shooting.
Brendon Lavender
was one of the biggest surprises from the event. He was stellar for the Arizona Magic and earned an offer from the Arizona Wildcats. The opportunity to play for the in-state school might be too hard to pass up.
"I am most likely going to commit," Lavender told GOAZCATS.com. "I am going to see the campus and talk to family and just be patient with it but I feel good. I am going to see the campus as soon as possible. I am talking to my dad right now and we're going to go down there this weekend."
Future Ohio State forward
Luke Babbitt
helped his Las Vegas Prospect advances to the semi-finals. He played his typical aggressive game and gave his club a shot against SCA. He finished with 20 points and handled himself well against
Troy Gillenwater
, who wasn't too shabby himself. The future Oklahoma State big man had seven points.
Much heralded sophomore
Demetrius Walker
put in 20 points and looked as good as he is capable of. The well put together wing will be interesting to watch this year with Jennings, Gillenwater and crew.