Jayhawk Summer Finale: Cook gets closer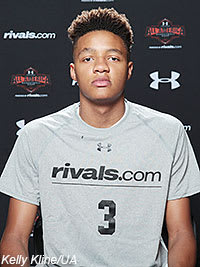 By Brett Regan
Special to Rivals.com
OVERLAND PARK, Kan. -- It might not be the premier showcase in the country, but the crowd and atmosphere at the Jayhawk Summer Finale on Wednesday night sure made it seem just as important. With several Rivals150 prospects kicking off their final event of the summer, there were a good number of quality performances and college coaches on hand to catch it all.
Cook closer to decision
Tyler Cook
might have a favorite for his services. The key word is might. His contagious smile while answering to the possibility of a frontrunner inside the Drive5 Sports Center certainly hinted that notion, but the 6-foot-8, 240-pound power forward isn't going to admit anything just yet.
Approximately two months ago, Cook, a four-star prospect and No. 76-ranked player for 2016, cut his list to six schools --
Arkansas
,
Florida
,
Iowa
,
Iowa State
,
Missouri
, and
Virginia
. So, at the moment, each remains in play, and the vast majority of those programs were on hand to watch Cook and his loaded St. Louis Eagles squad during the opening night of the Jayhawk Summer Finale.
However, it appears the St. Louis -native is inching closer to a decision.
"I'm kind of ready to get it over with as soon as I can now, but, at the same time, I want to make sure I make the right decision," the Chaminade (Mo.) High School standout said. "The timing of when I cut my list down was kind of an effort to try to get it over with as quick as I could."
In a 70-64 win over Net Gain Sports, coaches and spectators witnessed what Cook could do as the focal point of an offense. Playing without five-star teammate and recent Duke commit
Jayson Tatum
, the No. 3 prospect in the country, the bruising power forward didn't disappoint.
Down on the block, Cook used his strength to get good position and showcased a nice ability to turn and finish with both hands around the rim. He also rebounded the ball strong in traffic and was able to draw contact to get to the foul line on several occasions.
No, it wasn't the strongest outing of the summer, according to Cook, but he is looking to finish his final tournament of the summer strong. Then, like many others, the focus will soon turn to scheduling official visits and seeing where the process ends up.
"I don't even know if I'm taking all five (visits). I'll probably end up taking three or four. I'm not sure which schools yet," he said. "It's just whenever I feel most comfortable. I'm not going to rush it, but, at the same time, like I said, I want to get it over with, but I want to take my time to make sure I make the right decision."
Horne happy to be home
For rising prospect
Jeriah Horne
, the location couldn't be any better. Not only is the 2016 versatile forward back where his eye-catching summer began, but he is also ending it in the very place he started this long journey many years ago.
As Horne took the floor Wednesday night, it was only fitting the gym was packed as his KC Run GMC team squared off against the many familiar faces of KC-based YOBO in a locally-anticipated matchup. It was equally fitting that the 6-foot-6, 220-pounder didn't miss a beat and proved to be the best player on the floor during his squad's 81-66 victory.
"It feels good to come back because I've spent so much time in Kansas City working hard and preparing for when I go out of town to showcase my skills," said the three-star prospect, who plays his high school ball at Barstow. "Being able to come back to Kansas City where it all began, where I started the grind, to finish here, it's something special."
Playing with as much energy as the crowd, Horne showed exactly why his offer list has seemingly grown by the day this summer and that his stock is as high as ever. Simply put, there wasn't much Horne didn't do well.
On one end, Horne was either posting up smaller defenders and using his thick frame to bully his way to easy points or using a steady pump fake to knock down mid-range jumpers or find the open teammate. On the other end, when he wasn't snatching rebounds with authority, Horne was blocking shots, deflecting several passes, and taking charges.
"I just wanted to play my game. That's what I tried to focus on," he said. "I know (Wednesday) I was a little quieter, but this is a team full of great players. They did their thing and we came out with a win and that's all I care about."
Horne was far from quiet, though, and those in the Drive5 Sports Center should have walked away impressed, including several coaches from programs with offers out to Horne. It was a great start to the weekend for the climbing prospect.
In terms of recruitment, Horne plans to evaluate his options following the tournament, cut his list to five or six schools in the near future, set his official visits, and then commit to a program in either late September or early October.