Jay Wright, Villanova offense draw for Arcidiacono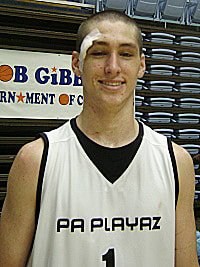 Over Memorial Day weekend at the Tournament of Champions,
Ryan Arcidiacono
was introduced to the basketball world. In just a few short months after that he went from the kid with a tough to pronounce name to one of the nation's most wanted point guards in the class of 2012.
After visiting finalists
Florida
and
Villanova
over the past few weekends, the 6-foot-3 point guard from Langhorne (Pa.) Neshaminy decided to make the call for Jay Wright's Wildcats.
"I just fell in love when I went to the Midnight Madness," Arcidiacono told Rivals.com. "Florida, coach Billy Donovan and the players were great. But it was just a little too far away from home. I just fell in love with Jay Wright, the players, the coaches and how close they are.
A point guard with size who raises the level of play of those around him, Arcidiacono is a complete player at the one. Back off of him and he'll bury a jumper, crowd him and he uses his size and strength to get to the paint and create.
"It's a great offense," said Arcidiacono of Villanova's style of play. "It's one of the top rated in the Big East the past couple of years. They are in the top 10 year in and year out and that's the type of program I want to go to."
With his commitment out of the way, the four-star prospect and #45 player in 2012 is looking to focus on improving his game and leading his high school team without worrying about his recruitment.
"I know that they know what I can do at Villanova," said Arcidiacono. "I'm going to have to work my butt off to get to play there. Year in and year out they are bringing in studs."
"It's great to concentrate on Neshaminy and play for Neshaminy. I'm going to try and win for them."
[rl]