James Wiseman emerging as elite prospect in 2019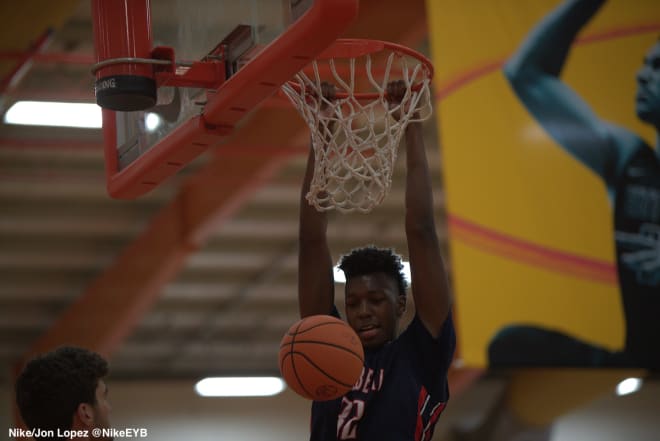 WESTFIELD, Ind. -- This spring and summer, five-star power forward James Wiseman knew that he needed to test himself if he wanted to prove he belongs as an elite prospect.
So far, things have gone well for the 6-foot-10 sophomore from Nashville (Tenn.) Ensworth as he's averaged 11.6 points (on 62.5 percent shooting) and eight rebounds per game playing up an age group on the Bradley Beal Elite 17U team in Nike's EYBL.
"Playing up a division is going great," Wiseman told Rivals.com. "I still have to get used to the shot clock and game speed but I'm getting better game by game. Once I get my motor going during games, I feel like no one can stop me."
With his size, athleticism and skill, Wiseman has a chance to play at the highest level some day. Having the chance to see his talent up close and personal from very early on, in state programs like Vanderbilt and Tennessee are trying to establish relationships to keep him close.
"Vanderbilt and Tennessee are close to home and their pitch has just been that I can come in there and help them win a SEC Championship and they tell me I would be a really great fit for their program," said Wiseman. "They also tell me that I would have a really great relationship with my teammates and the coaches. I've been going to games at both Tennessee and Vanderbilt and have taken visits to both places so I feel comfortable with both programs."
Of course, no top five prospect is going to pass through high school without considerable attention from big-time programs and it's starting to happen for Wiseman.
"Some of the new offers I've picked up are SMU, Florida, Florida State, Iowa, Iowa State, Indiana and Xavier," said Wiseman. "I've also started to receive interest from Duke, Kentucky and Kansas."
There have been rumors about Wiseman possibly moving for his junior season but his plans for now are to stay where he is and focus on getting better while the recruiting stuff plays out over time.
"I want to take my time with the process because I still like to have my options open."