Isaiah Abraham's recruitment continues to trend upward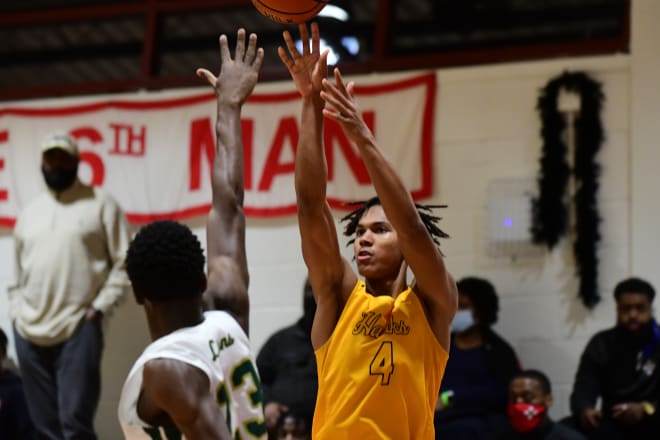 Standing 6-foot-7 with a confident jump shot, it did not take long to notice Isaiah Abraham at the Beach Ball Classic in South Carolina. The Warrenton (Va.) Highland School sophomore scored 19 points and connected on a pair of threes in his team's second-round Beach Ball Classic win.
"I am best at getting to my shot," Abraham told Rivals.com. "Even when I am off a little bit I am going to play hard, in general. I have worked a lot recently on handling the ball with pressure. I am working on getting to my shot coming off screens, reading the defense and making plays off that. I have heard some Paul George comparisons because of my size and how I shoot the ball."
Playing last summer with Team Takeover on Nike's 15u EYBL circuit brought Abraham a lot of attention from coaches.
"I have offers right now from Georgetown, George Mason, NC A&T," Abraham said. "I have been on visits to Georgetown and George Mason. I went on a visit to Maryland, too. They haven't offered yet, though."
*****
MORE: Five prospects that should rise in rankings
2022 Rankings: Rivals150 | Team | Position
2023 Rankings: Rivals150
2024 Rankings: Top 40
*****
IN HIS OWN WORDS 
Georgetown: "They are a really good program. The coaches there have a lot of experience, and they coach their guys hard. They talk about development. Overall, the visit was a really good experience. ... They have talent over there."
George Mason: "Coach Kim English is a really good coach. He is young, so it is a good experience talking with him. I loved my experience there."
WHAT'S NEXT? 
"Maryland, George Washington and Indiana are schools who have shown some interest," Abraham said. "I come from a basketball family. My dad, Faisal Abraham, played for Marquette, and my aunt, Tajama (Abraham) Ngongba, played in the WNBA. I am looking for a school that will give me the best opportunity to get to the next level."
RIVALS' REACTION 
Abraham has a natural basketball frame, standing 6-foot-7 with good length. His jump shot is what you first notice about his game, and he is confident getting to it. He will have to continue fine-tuning his footwork and shot selection, but the confidence and range are there. Abraham is good in transition and has some easy pop to his game. His recruitment is trending toward high-major, which makes sense given his natural tools and lineage.