Irish import Aidan Igiehon becoming a high level prospect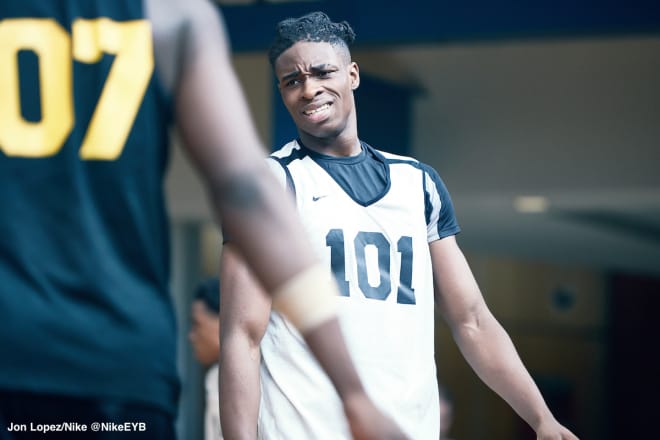 ST. LOUIS -- Ireland hasn't been known for pumping out Division 1 hoops prospects, but four-star power forward Aidan Igiehon has been worth the wait.
A rising junior at Lawrence Woodmere Academy in New York, Igiehon is a beastly athlete with rapidly expanding skill who is still new to the United States and the game of basketball after moving to the States around the time he turned 14.

"There's a bit of a scene in Ireland but it's obviously not as intense as it is here," Igiehon told Rivals.com. "In Ireland, I just started playing basketball when I was 12 years old. I was really short but when I had the massive growth spurt I came over here straight away.
"I had no clue about colleges, I knew nothing about the game. It just was fun."
Igiehon knows plenty about the game now and college programs know plenty about him. Among the programs heavily pursuing him are Syracuse, Villanova, Harvard, Yale, Stanford, St. John's, Arizona, Seton Hall, Penn, Texas A&M, Illinois, Xavier, Oklahoma, Rutgers, Hofstra, Princeton, St. Louis and South Carolina.
Despite all of the attention, Igiehon isn't satisfied and wants to be known as a more complete player.

"I still see a lot of holes in my game personally, but I try to get in the gym twice a day," said Igiehon. "I'm just trying to get my skills better because I run the floor well and I'm really athletic for my size.
"I think it shows in my footwork, it's improved. Some people just get blinded at the flashy dunks, so they don't really think I'm a skilled player, but I am."
Igiehon says he's seen St. John's and St. Louis, but after the summer he's hoping to make a few visits and mentioned Arizona, Syracuse and Yale as places he hopes to see. In the meantime, don't expect any kind of decision or definitive list anytime soon.

"Narrowing things down, it has to be after next year's AAU season," said Igiehon. "I don't want to rush things. I really want to know who I can get (interest from) and where it's a fit. I definitely will take some visits just to get an idea of what I'm looking for."