Interest grows in 2014 point guard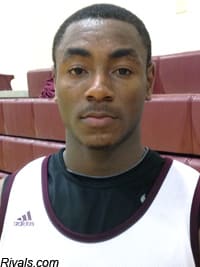 In Kevin Johnson's heyday as an NBA player, he was featured in a commercial with the tagline "You can't stop what you can't catch." That could be the case with
LouRawls Nairn
.
A 5-foot-10 point guard at Bel Aire (Kan.) Sunrise Christian, "Tum Tum" is as fast a point guard as there is in the country.
The speed burner is working hard on other areas of his game, though.
"He's definitely improved his jump shot, although he doesn't use it as much as we would like to see him use it," Sunrise coach Kyle Lindsted said. "His game is primarily getting into the lane, to the rim and getting easy looks for his teammates."
A true set-up guy, Nairn is an assist per game shy of averaging a double-double on the season. He doesn't just run the show on the floor, he runs it in the huddle, in practice and everywhere his team goes.
"His leadership is impressive," Lindsted said. "His toughness, his charisma is incredible. We have a lot of players, but he's the alpha dog."
While Nairn has improved his jumper and has elite-level speed, he's still got plenty to work on with his game. Much of it has to do with learning to control his speed.
"He's still learning a lot of stuff," Lindsted told Rivals.com. "He's one of those guys who is so fast that he is learning to control his speed. He has that speed, but sometimes he has reckless speed. He's learning the difference between highway and the city limits.
"He has the raw talent, but he's really wrapping his head around the details."
"I would say it has been out out on the table for a month or maybe more," Lindsted said of a Kansas offer. "Coach Townsend has been to practices and games and said that they want him.
"I didn't really ask if it was an offer so I checked with them and asked, and they said, yes, they stand behind it."
Nairn has led Sunrise Christian to a 27-1 record, and he's got his eyes on the grassroots circuit. He'll run the show for Kansas City-based MoKan Elite, and his recruitment is something that Nairn and his coaches will figure out as they go.
"I think Tum's heart and desire are to play at a very high level," Lindsted said. "I think if he has a really good spring and the Kentucky and Kansas high-major-plus programs get warmer and warmer with him then he'll be more inclined to go to one of those places.
"If it's not clear cut that he's going to be on that level, he is more likely to go with one of the high majors that is on him now than wait around for the elite schools to make their way to him."

Click
Here
to view this Link.
[rl]