Indiana reels in another in-state five-star in Jackson-Davis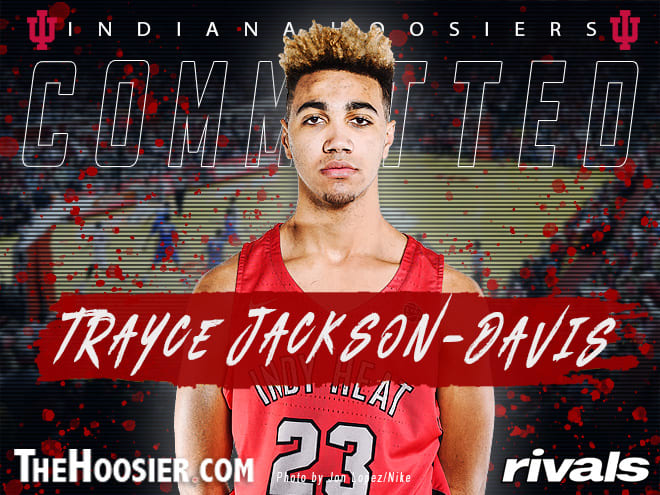 Indiana made a massive move within the 2019 class on Friday thanks to the commitment of Trayce Jackson-Davis. A top-25, five-star prospect, Jackson-Davis is another tremendous score for Archie Miller as he continues to shut down the state's borders.
"They have always shown how invested they are. They went above and beyond. They made sure that they were first to every event that I went to, every game, every practice and anytime that could come see me, they made sure that they were the first to do so," he told Rivals.com. "They really showed how badly they really wanted me and I also think that they need me so it isn't just a place that wants but also a place that needs me.
The priority that Archie Miller placed upon him was something that did not go unnoticed. "From the first day he got the job, I am pretty sure that he was out recruiting but they made sure that they had someone at my first practice," he said. "They made a big push and made sure that they were going to really recruit the in-state guys and recruit more inside-out instead of outside-in, and just really lock down the borders."
Selecting the Hoosiers over Michigan State and UCLA, Jackson-Davis is the likely replacement for all-league forward Juwan Morgan. One of the most coveted forward prospects in the 2019 class, the son of former NBA star Dale Davis brings a tremendous pedigree, evolving half-court skillset and further potential to IU.
The top homegrown talent from the state, Jackson-Davis' commitment only supports Miller's original hopes of landing the top talent the state provides. In the 2018 class, three of the top five in-state prospects gave IU their pledge, led by top-five guard Romeo Langford.
This year, Indiana hit the mark again with Jackson-Davis, and he will also be joined by fellow Hoosier State native and Rivals150 guard Armaan Franklin. This all just made it that much easier for the five-star to commit to Indiana. "Just seeing those guys and how the state loves them and what they are trying to do and what they are trying to accomplish, it is all for the state," he stated. "Just growing up here, this state bleeds basketball so how invested the fans are and the coaches are into the program, it was just a huge part of it."
A 6-foot-9 lefty power forward that sports a 7-foot-2 wingspan, Jackson-Davis had his national emergence this spring on the Nike circuit, which only brought offers from the top name brand programs nationally. A member of the Spiece Indy Heat unit, he posted per-game averages of 17.5 points (53.2 FG percent), eight rebounds, 1.9 blocks and 1.5 assists.
The second commitment in the 2019, Jackson-Davis and Franklin create a strong two-man class as the winter months approach. The next and potentially final objective for IU is five-star wing Keion Brooks, a travel teammate of Jackson-Davis' who is not far off from a decision between Indiana and Kentucky.