I've Got Five On It: Revisiting recent five-star reclassifications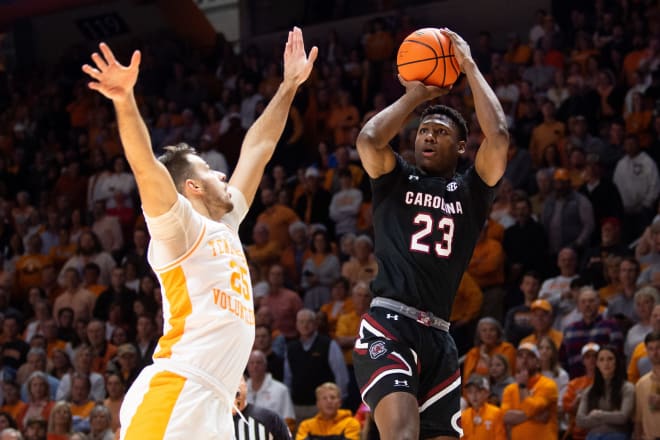 Prospect reclassification isn't a new phenomenon by any stretch. High-profile players have been switching classes for years. That said, such situations seem to be getting more common by the year.
The class of 2022 recently welcomed in late reclassifications by five-star prospects such as North Carolina signee Elliot Cadeau and Baylor-bound big man Yves Missi in addition to a number of other names. Today, in I Got Five On It, Rivals national analyst Rob Cassidy explores reclassifications by five-stars in recent classes and examines how those decisions are panning out.
Reclassification: 2023 to 2022
Ranking: No. 6
Overview: Jackson was the No. 1 player in the 2023 class for a time, but settled into the No. 6 spot when he reclassified to 2022 and signed with in-state South Carolina following a brief stint as a North Carolina commit. There were some rocky times for Jackson this season as he wasn't surrounded by much high-end talent in Columbia. Still, the five-star wing managed to average 15 points and six rebounds per game as the bright spot on a 11-21 team. Jackson declared for the NBA Draft following his freshman season and is projected as a second-round pick in ESPN's Jonathan Givony latest mock draft. It's easy to second-guess Jackson's reclassification decision because of his standing as a fringe first-round guy, but if being one-and-done was the goal, mission accomplished.
*****  
Reclassification: 2022 to 2021
Ranking: No. 4
Overview: Duran is a success story any way you slice it. The big man was originally a member of the 2022 class and sat atop the Rivals150 at the time of his reclassification. His freshman season at Memphis saw him average 12 points and eight rebounds per contest, garnered first-team All-ACC honors and eventually landed in the NBA Draft, where he was selected 13th overall by the Detroit Pistons. Things are going well for Duran as a pro as well, as the former five-star landed on the NBA's All-Rookie second team after a year that saw him start 31 games and average nine points and eight rebounds per contest.
*****  
Reclassification: 2022 to 2021
Ranking: No. 3
Overview: Like Duran, Sharpe was the No. 1 prospect in the 2022 class before he bounced to join the 2021 group and enroll at Kentucky mid-season. Whether or not he's a success story depends on who you ask. Kentucky fans may be lukewarm to Sharpe, who never played a single game as a Wildcat after joining the team mid-season. Instead, the former five-star practiced with the squad in Lexington and geared up for the 2022 NBA Draft, in which he was selected by Portland with the seventh overall pick. Anyone without a rooting interest in Kentucky basketball will tell you that Sharpe's reclassification decision was a good one, however, and point to his $27 million signing bonus and the 9.9 points he averaged as one of the league's youngest players as proof.
*****  
Reclassification: 2022 to 2021
Ranking: No. 5
Overview: Bates's post-high school career has been a bit chaotic. The five-star wing made the call to leave the 2022 class and join 2021 in order to get on campus at Memphis sooner, but things in year one were rocky to say the least. Bates battled injury and other issues that kept him sidelined for a healthy chunk of his one season as a tiger, He played in 18 games and averaged 9.7 points per contest before hitting the transfer portal following the season. He spent his sophomore campaign at Eastern Michigan, where things went exponentially smoother save for an arrest on gun charges that were eventually dropped as part of a plea deal. Bates was a third-team All-MAC following his one season as a Eagle and entered the 2023 NBA draft. He's currently projected as a late second-round pick or an undrafted free agent.
*****
Reclassification: 2023 to 2022
Ranking: No. 30
Overview: Miranda was a five-star prospect in the class of 2023 but lost a star when he shipped out on a year of development and signed with NC State as a member of the 2022 class. Miranda was a late reclassification, making the call to enroll mid-year and join the Wolfpack's season already in progress. The move was all for naught, however, as Miranda never played a game for the Wolfpack and now finds himself in the transfer portal after testing the NBA Draft waters. Programs such as Oklahoma State, Villanova, Georgetown and Florida State are expected to be involved in his recruitment.