How they were built: Duke, the hot hand
HOW THEY WERE BUILT: Villanova | Arizona | Northwestern
As tip-off of the 2017 NCAA Tournament draws closer, we look at some of the top storylines and how those teams were built through recruiting.
Today: Duke has had a season full of bumps and bruises. Mike Krzyzewski's health kept him sidelined for a stretch, the Blue Devils lacked a true point guard and players looked to have different agendas as the team finished fifth in the ACC. Yet after winning four games in four days to claim the ACC Tournament title, Duke enters the NCAA Tournament as arguably the hottest team in the field.
STEP ONE: CHANGING WITH THE TIMES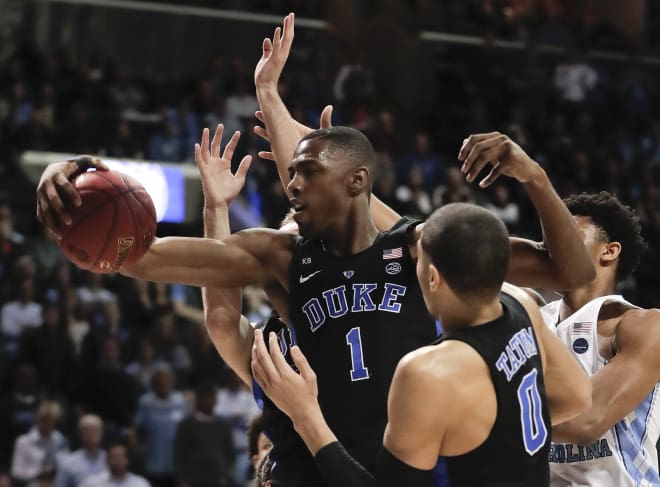 Looking back it's pretty funny, but it wasn't more than three or four years ago that people were wondering aloud if perhaps Coach K was losing his touch. Many worried that he was too concerned with landing multi-year players and not adapting to the one-and-done culture. Then he won a national title with a freshmen-dominated team in 2015 and people shut up. That team signified a big change in the Blue Devils' recruiting approach and they've continued to lock up the best talent without worries about how long they may be in school.
As it turns out, this year's team only features one surefire one-and-done talent in star freshman forward Jayson Tatum. But at the time Duke landed its 2016 recruiting class, five-star big men Harry Giles and Marques Bolden were both considered likely one-and-dones and five-star guard Frank Jackson was a candidate to spend just one season in Durham. Looking ahead, class of 2017 five-star big man Wendell Carter is likely to only spend one season on a college campus and the Blue Devils are still heavily involved with potential one-and-dones Trevon Duval, Mohamed Bamba and Kevin Knox.
While the Blue Devils have adapted their recruiting strategies to today's climate, the program still likes to build with talented veterans and sophomore guard Luke Kennard and junior Grayson Allen are representative of that. A sweet-shooting lefty, Kennard spurned his childhood favorite Kentucky to play in Durham, while pulling Allen out of Florida was a big reason for the 2015 title.
STEP TWO: A FRESHMAN STAR CHANGES HIS APPROACH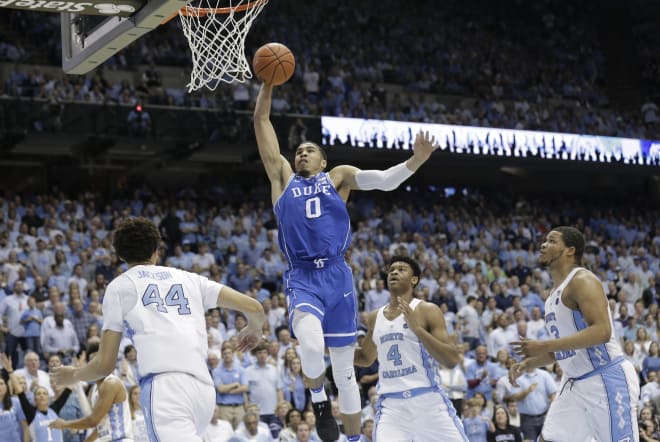 It took a couple of cuts to his list to get around to picking Duke, but for most of his recruitment it was assumed that Tatum would end up in Durham. When he picked the Blue Devils in July prior to his senior year the only question was the type of fit he would be as a freshman.
In the basketball world, people like to use code words to lessen the blow. A popular example of this is substituting "ball stopper" for selfish. Tatum got tagged with the ball stopper label. Part of it was always being asked to put up huge numbers and some of it was his own mentality.
Make no mistake, Tatum is a scorer and he plays with a scorer's mentality. But the subtle changes in his game have made him a more complete player and the Blue Devils have benefited hugely. He's taken leadership from veterans, he's taken coaching and he's become a much more versatile player and playmaker because of it. For those who have to face the Blue Devils that's a scary thing.
STEP THREE: A FIFTH-YEAR SENIOR PROVIDES LEADERSHIP
On a roster stacked with five-star talents unlikely to see their senior years, it can be argued that fifth-year senior forward Amile Jefferson could be the key to a successful NCAA Tournament run. It's also interesting that he's probably the player the Blue Devils had to fight the hardest for.
A native of the Philadelphia area, Jefferson waited all the way until May of his senior year to make a decision and on the day he announced, ACC foe NC State was the presumed leader. Duke won that battle and as a result Jefferson has helped them win a lot of games.
He's never put up eye-popping numbers, but Jefferson has emerged as a leader for the Blue Devils. He's quietly had an impressive career with more than 1,000 points and 900 rebounds. Jefferson's team is at its best when he is on the floor and if the Blue Devils are able to cut down the nets in early April, Jefferson is likely going to play a huge but unappreciated role.