Hoophall: Noel blocks Brewster stars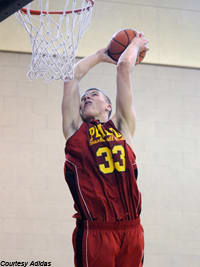 Noel was officially credited with seven blocks, but that number is probably low, and it is nearly impossible to quantify the effect he had on the game defensively.
Offensively Noel was no slouch. Along with dunks, free throws and a nifty left handed jump hook, he scored 22 points.
As such an elite talent, Noel faces a couple of tough decisions. Obviously one is where he is going to school. The other is whether he will stay in the 2013 class or move up to the 2012 class.
In regards to his classification, Noel said there is a 15 percent chance he will move to the 2012 class.
As to what school he will go to, he only revealed that Syracuse, Kentucky and UConn were the three schools showing him the most interest. On this night Coach Calipari and assistants from Syracuse and UConn were watching Noel.
The second top performer for Tilton was highly regarded 2014 prospect Wayne Seldon who scored 16 points.
The Arizona signee efficiently bullied his way to 22 points on 9-of-11 shooting from the field and 4-of-4 from the line. He also had six rebounds, three blocks and five assists. The only knock on Tarczewski's performance were his six turnovers. Most of those turnovers came on plays when he tried to do too much on post moves. Actually he passed the ball extremely well out of the post and made positive plays when not rushing.
After the game he did say that he hopes to have a school decision soon but is not on any timetable. The schools he listed as contenders are Villanova, Ohio State, North Carolina State, Kentucky and Duke.
The Xavier commitment unleashed a game high 24 points on 4-of-9 shooting from the field and 14-of-15 shooting from the line. As evidenced by his large free throw attempts, Davis didn't just rely on his long range shooting but relentlessly attacked the basket.
Adams only scored five points and grabbed four rebounds, but his natural talent was quite evident. He has great size, is a bouncy athlete and has a feel for a game that he has only been playing for a short while.
Despite playing sick, Obekpa dominated inside grabbing 13 rebounds and blocking eight shots. To go along with his length and athleticism, Obekpa has a knack for rebounding outside of his area.
Offensively, he is still raw (scored 10 points on 4-of-16 shooting from the field), but his jumper doesn't look bad and he has the plenty of potential.
Plenty of schools would love the opportunity to develop Obekpa. Head coaches Jim Calhoun, Steve Lavin and Mick Cronin were on hand to watch him play. A number of other schools are also pursuing him.
Currently he holds offers from Virginia Tech, Miami, UMass (all three coaches on hand) and VCU. Wake Forest, Clemson, Maryland and Providence are all showing interest.
[rl]