Holloway picks another school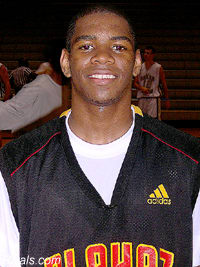 Four-star point guard
Terrell Holloway
released a list of eight schools of interest after being released from his Letter of Intent with Indiana. The 6-foot, 175-pound point guard from Cincinnati (Ohio) Harmony Community School has settled on a new school, but it is not one on that original list of eight.
"I'm going to Xavier," said Holloway, who came to Cincinnati from Long Island. "I talked to Coach Miller last night and called the other schools recruiting me."
A number of factors including school size and the opportunity to stay in Cincinnati went into Holloway's decision.
"Xavier has a nice small campus with around 3,000 students," he said. "I wouldn't have to take a shuttle bus to class. The basketball program has one of the highest graduation rates in the country, and it also has 14 pros from the last 14 years. I'm comfortable with the coaching staff, and I've gotten to know a lot of the players while being in Cincinnati."
The No. 100 ranked prospect in the Rivals150, Holloway averaged 14 points and seven assists per game for Harmony Community School. He will participate in the adidas Derby Festival Classic in Louisville on April 19.
Holloway expects to replace senior
Drew Lavender
as Xavier's point guard next season.
Terrell Holloway scouting report:
Physically Holloway doesn't have a big presence on the court, but he does a great job of directing his team from the point guard position. He finds a nice balance between pushing the action and also backing off and letting his teammates operate. Effective on the high ball screen, Holloway shoots a quality pull up jumper.