Heavyweight battle at City of Palms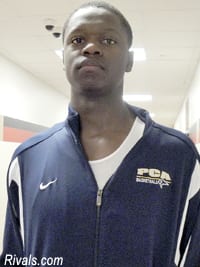 Parker struggled early on and a dialed-in Riverside squad jumped out to a 20-7 lead after a Gathers' three-pointer to end the first quarter. Parker settled down in the second quarter, Miller Grove began its gradual chipping away at Riverside's lead.
Eventually Miller Grove, playing without the fouled-out Parker on the floor, hit a three-pointer to take a one point lead with one minute remaining in the game.
Gathers proceeded to put the finishing touch on his dominating performance. On the ensuing possession he had the assist on Riverside's game-winning shot. Then he contested a driving shot and grabbed a rebound in traffic where he was fouled. He made the frontend of a one and one and then grabbed the final rebound of the game.
End result - Riverside 59, Miller Grove 55.
Gathers' 19 points and 15 rebounds don't do justice to his full impact on the game. Choose your metaphor- Rock of Gibraltar, Spartacus, Samson with hair.
Gathers' simply brings a man's game and a man's approach to a court full of teenagers. His skill set is expanding and his physicality and competitive desire is unmatched at this level.
Parker by no means backed away from the battle. He had an impressive six blocks and scored 14 points to go with six rebounds.
But as the game wore on, Gathers just had more explosiveness off the floor and easily matched Parker's strength. Parker's 6-of-21 shooting from the field provides evidence of his dilemma. Gathers was slightly better from the field, hitting 8-of-19 shots.
A Kansas signee, Peters scored 17 points on 7-of-8 shooting from the field and 3-of-3 shooting from the line. Peters also used his physicality to gather up six rebounds.
Randle, who is an elite 2013 prospect, also took advantage of Constitution's small frontline, scoring 16 points on 4-of-8 shooting from the field, 1-of-2 from behind the arc and 7-of-8 from the line. Like Peters, he also had six rebounds. Unlike Peters, Randle was much less conservative with the basketball and produced five assists to seven turnovers.
A 2013 point guard, Botley runs the show for Prestonwood Christian. His game was on point Saturday night with 5-of-7 shooting, 2-of-2 from behind the arc and 2-of-2 from the line for 14 points. He also had three rebounds, four assists, three steals and four turnovers.
Although diminutive, Botley is exceptionally quick and strong and is an acrobatic finisher around the rim. He looked every bit the part of a high major prospect.
A scrappy Lake Wales (Fla.) High team pushed a loaded Santa Anna (Calif.) Mater Dei for four quarters but came up short 70-76.
[rl]