Harkless leads NY Panthers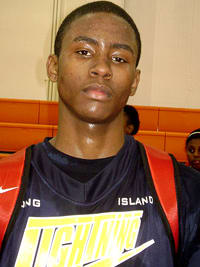 PHOENIX
- The New York Panthers traveled across the country into the desert and claimed the championship of the Desert Duel. Leading the way for the Panthers was top gun
Maurice Harkless
.
The one time UConn commitment's recruitment is wide open, and Harkless has spent the month of July opening up his game. A long and smoothly athletic small forward, Harkless has found a bounce and energy to his game that was missing in the spring.
His greatest asset is his ability to finish in transition where he displays top shelf body control around the basket. With his quick second jump, he is also a dangerous offensive rebounder. Throw in a reliable three-point stroke, and you have a high level wing prospect who has upside to boot.
Certainly a number of other Panthers contributed to the team's successful run through the tournament. A couple guards Charles Oliver and Jeff Short both had impressive moments during the tournament.
Norvel Pelle
(Compton Magic, 2011)- It looks like Pelle is finding his stride as a basketball player. That is a frightening thing for his future opponents. Pelle is a big time talent with top of the line athleticism for a prospect with his size. He effortlessly blocks shots with either hand, finishes with either hand and runs the floor like a gazelle. The primary task for Pelle in order to put together his talents as a productive and winning basketball player is to crystallize his mental focus.
A number of schools are poised to make a big push for Pelle after witnessing his abilities in July. According to Pelle, the entire Pac-10 has offered along with St. John's, Texas, UNLV, UConn, Miami, Kansas and North Carolina.
Markus Kennedy
(New England Playaz, 2011)- The big fellow is in better shape and producing. A reclassified Villanova commitment, Kennedy has had a good month overall.
Brandon Taylor (Team Philly 16-U, 2012)- A strong but slightly undersized power forward, Taylor was the lead guy at times for a loaded Team Philly squad. He shot the ball well from behind the arc, drawing opposing big men away from the basket. He also made some plays off the dribble and is a physical rebounder.
No offers are in yet, but he is hearing from Temple, St. Joe's, Stanford, LSU and Pittsburgh.
Gary Bell
(Seattle Rotary, 2011)- The Gonzaga commitment had a stretch on Wednesday where he was unguardable. With Mark Few courtside, Bell scored at all three levels, made some physical plays in the lane and dished off a couple assists.
Steve Taylor (Mac Irvin Fire 16-U, 2012)- An athletic and long forward, Taylor drained three-pointer and made plays in transition. Taylor is a high major prospect.
MORE NOTES
Mike Shaw
named Michigan State, Illinois, Marquette, DePaul, Tennessee, West Virginia and Texas as the schools recruiting him the hardest.
Post prospect
Ronnie Stevens
came up big for Belmont Shore's team with only five players in a win over Mac Irvin Fire. Stevens scored 25 points and came up with easily double digit rebounds.
Schools are taking notice of his productive play. UTEP, Santa Barbara, Cal-Northridge, Colorado and Long Beach State have offered. Creighton, Bradley, Utah and Colorado State are showing interest.
A promising post prospect in the 2012 class,
Willie Cauley
has offers from Oklahoma, Oklahoma State, Kansas State, New Mexico, Wyoming and USC. Alabama, Miami, Texas and Arizona are showing strong interest. At this point Cauley considers Oklahoma State his favorite.
2012 four-star forward
Savon Goodman
had a strong showing in the desert. Villanova, Texas, Rutgers, Miami and Penn State have offered, including all the area Philadelphia schools. Interest is also coming in from West Virginia, Georgetown, North Carolina, Duke, North Carolina State, Marquette, Xavier and St. John's.
2011 wing prospect
Avery Dingman
caught the attention of courtside observers with his athletic ability and shooting ability. Creighton, Missouri State, Northern Colorado, Central Michigan, TCU and the Citadel have offered and Colorado is showing interest.