Harden turns it on in Super 64 championship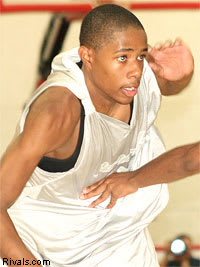 Harden missed his first shot of the game. Then he took over. The Artesia (Calif.) guard was perfect all game long, scoring all over the floor en route to a dazzling 34 points in an 86-80 victory against D.C. Assault.
Harden scored 18 points in the second half, including 15 of 19 from the foul line. His game wasn't all about the foul line. He earned the trips to the charity stripe. He made D.C. Assault guard him.
"This is where I felt like I could make a name for myself," Harden said.
D.C. Assault knows his name. Everyone that watched him shine in the Cox Pavilion knew his name by game's end.
Harden certainly did that in the adidas Super 64.
Former NCAA head coach and National Champion Jim Harrick coached the Pump-N-Run team to the championship and said Harden is en route to a fantastic basketball career much like a couple of his former players.
"I've been able to coach some really good wings in my time like Cuttino Mobley and Toby Bailey and James is every bit in their class," Harrick said. "He's just a fearless player.
"He is what I call a hard baller and that's someone that doesn't slack off in the drills and wants to defend the best players and take the big shots and makes the biggest plays. I reserve that title for very few guys but he's been bringing it all year and each night out."
Harden didn't do it alone. Drew was outstanding with the ball in his hands, scoring 16 points and handing out five assists. Try finding a point guard in the 2008 class that executes the pick and roll like he does.
Beasley is the toughest player in the country to defend. He can do it all from every spot on the floor and proved that when he looked to score in the championship game. Triple team him? Go for it. Pump-N-Run did. It didn't work. The lefty found a way to score with his right hand. If teams try to body him up inside, his perimeter shot and mid range game was working. If he had a glimpse of daylight inside, it was a bucket.
Beasley was dominating in the first half and helped the Assault over come a quick strike from Pump-N-Run, who opened the game blazing hot. Beasley scored at will and finished with 16 first half points and finished 29 points and nine rebounds.
For a guy that was virtually impossible to stop in the first half, Beasley didn't look to score and never had the ball in hands for the majority of the second half. He took his first shot in the second half with 5:40 to play. When he touched the ball, he scored. In fact, he didn't miss from the floor.