Hard work paying off for big time wing Keldon Johnson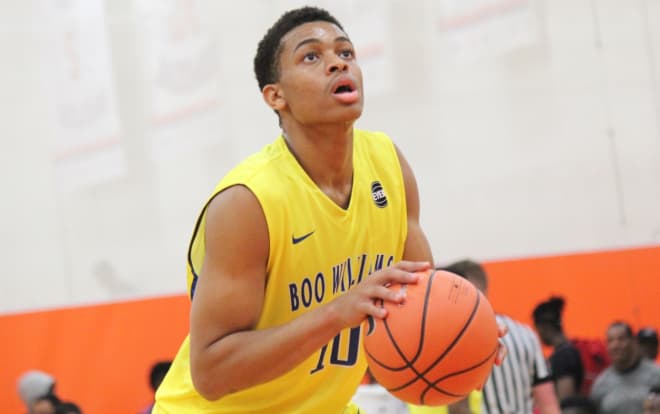 One of the top wings in the class of 2018, Keldon Johnson has always been a high-major basketball prospect. That's been the case from the time when he was a freshman scoring sensation in rural South Hill, Virginia to now where he'll spend his senior season at Mouth of Wilson (Va.) Oak Hill after a junior season at Huntington (W.V.) Prep playing top competition.
The 6-foot-6 rising senior has always had a little bit of trouble with carrying a few extra pounds. An ankle injury during his sophomore season at Parkview High only put his body more under the microscope. The skilled and smooth wing picked up some extra pounds while rehabbing his ankle, and there were times where scouts and college coaches felt he was out of shape and moving a bit slower than usual.
Then he made the transfer to esteemed Huntington Prep and really got to work with Jeremy Grubbs, his assistant coach and trainer.
"His dad called us and wanted to get him in better shape for AAU season," explained Grubbs. "So we started a thing called "breakfast club" where he would get picked up by me at 5:30 am every morning and we would arrive at the gym before it opened at six. We went every day, Monday through Friday, from March to the end of May."
Grubbs put Johnson through grueling workouts that pushed his body to his limits. And when he was done, he still had to finish it off with more running.
"We worked on a lot of shooting, finishes and ballhandling," Grubbs said. "We did some stuff with a band, and I'm kind of an old-school trainer. We would work out for one hour, then run a mile on the treadmill every morning."
Johnson was putting in the sweat equity to become the elite player that his family knew he could be, but he also had to change some of his poor nutritional choices as well.
"We would be on our way to school about 7:30 every morning, after he showered," Grubbs said. "At the beginning, he would go to McDonald's, but we slowly got him out of that habit and eating better."
The extra pounds started falling off and he was seeing results.
"At the beginning, he weighed 223, at the end 208," Grubbs said. "This is the next level training workout regimen we had Miles (Bridges) and (Andrew) Wiggins on, and it is a get ready for the NBA workout."
Johnson, and his new body, was one of the top storylines of the Nike EYBL circuit. The wing led his team, Boo Williams, in scoring and rebounding. He was an animal on the offensive glass, scoring at will as a shooter and slasher and showing off a new level of defensive intensity.
"His athleticism definitely improved from the weight loss and I think he was more creative with his finishes," said Grubbs.
Naturally, Johnson's recruitment has been hot over the past few months. The Virginia native has schools from all over the country after him.

"He's added a bunch of offers since AAU started and a bunch of schools are close to offering," Grubbs said. "I would say his top three are Maryland, Virginia Tech and Texas out of who has offered, but schools like UNC, Duke, Kentucky are right there in offering. They have all said they will evaluate through July and maybe pull the trigger afterwards."
Johnson wants to play college basketball at a high level, but he also wants his time in college to be a short one, according to Grubbs.

"He wants a staff that is going to be honest with him, and get him to the league," Grubbs said. "He wants to develop into a one-and-done type of guy."