Hampton EYBL: College predictions on top 12 performers
HAMPTON, Va. – It was a heck of a run for MoKan Elite's five-star point guard Trae Young and 2017's No. 1 player DeAndre Ayton of Cal Supreme at the Hampton stop of Nike's EYBL. Rivals.com National Basketball Analyst Eric Bossi breaks down those two and the rest of his top 12 performers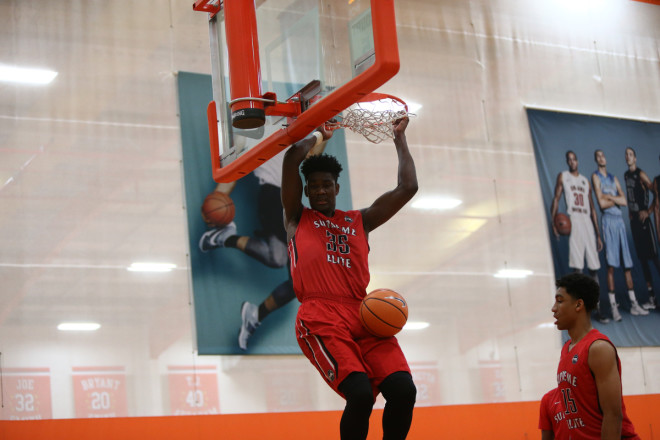 Bossi's take: The top player in the class of 2017 was thoroughly dominant in every aspect of the game. Even though he only got to play the first seven minutes in game one of his four weekend games, Ayton still averaged 20 points, 10.5 rebounds, four assists and 2.3 blocks per game. He was efficient, too, shooting 53 percent from the field and 91 percent from the free throw line. He's No. 1 for a very good reason.
Way too early prediction: Kansas.
Bossi's take: From the sounds of it, Bagley was a little bit up and down during the weekend, but 2018's No. 1 player was all up during the game I watched. He averaged 19.8 points and 11.3 rebounds per outing in Hampton. He does need to get stronger, but his ability to change the game near the rim with his athleticism, hit mid-range jumpers and improving defense are notable.
Way too early prediction: Arizona.
Bossi's take: The No. 8 player in the class of 2017, Brown reminds me a lot of Boston Celtics guard Evan Turner. He's a Swiss Army knife type of guard who does a little bit of everything. He ran some point, posted up, cleaned the glass and helped get big stops while leading the Las Vegas Prospects to a 3-1 weekend. He averaged 17 points, 8.5 rebounds and three assists per game.
Way too early prediction: California.
Bossi's take: The 6-foot-10 big man from Georgia played up to his No. 4 ranking in the class of 2017 while helping lead Team CP3 to a 4-0 weekend. As solid as they come in the post, Carter was good for 16.3 points, 7.8 rebounds and 2.8 blocks in just over 21 minutes per game. He's efficient and skilled.
Way too early prediction: Duke.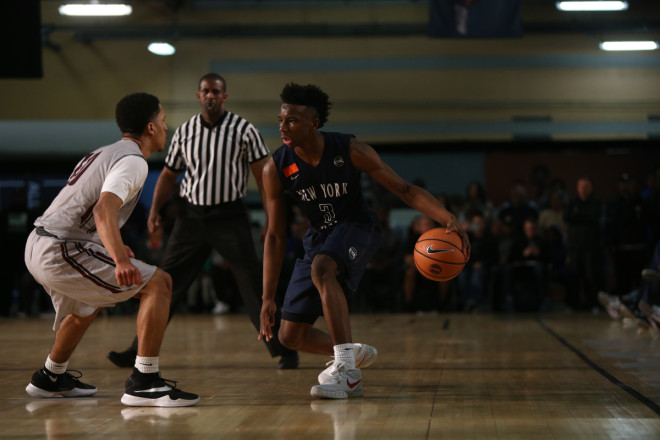 Bossi's take: There's just a little bit different level of athletic juice that Diallo can bring to the game. He's learning how to use his athleticism to supplement his game rather than relying on it as he works to improve his ball handling and shooting. Because his outside shooting remains a work in progress, he's still susceptible to inconsistency, but he's certainly backing up his top-10 status in 2017.
Way too early prediction: Kentucky.
Bossi's take: It isn't always pretty, but Goodwin is very reliable when it comes to getting the job done. Quit worrying about a traditional position if you are evaluating him and just appreciate that his being on the floor leads to wins for the St. Louis Eagles.
Way too early prediction: Illinois.
Bossi's take: For my money, Jackson is the single most improved player in the EYBL. Yes, he's always been a very good prospect, but he's grown to near 6-foot-10 and taken his game to an entirely new level. He's well on his way to five-star status and led the Spiece Indy Heat to a 3-1 weekend.
Way too early prediction: Maryland.
Bossi's take: Knox can play the four in a small lineup or the three full time if you want to go big. Though not perfect, he's significantly improved as a ball handler and jump shooter. I loved seeing some swagger and talk from him on the floor.
Way too early prediction: Duke.
Bossi's take: He and Trae Young form one of the two best duos in the EYBL (DeAndre Ayton and Brandon McCoy are the other), and he backed up his No. 2 overall in 2017 ranking. He missed some time due to a foot injury but averaged a whopping 25.6 points and 14.3 rebounds in his three appearances.
Way too early prediction: Washington.
Bossi's take: The EYBL's leading scorer, Sexton is a high octane, athletic and trash talking combo guard who is fun to watch. He got to the rim at will, and it's amazing to see how he goes from polite and friendly off the court to a total animal on it. He averaged 32.3 points and 6.5 rebounds per game on the weekend and plays like a new age James "Hollywood" Robinson.
Way too early prediction: Alabama.
Bossi's take: Not only is Washington a double-double machine, he is efficient in doing so. Nobody will question the five-star forward's motor, and he went for 19 points and 11 rebounds an outing while converting on 68.6 percent of his field goals during his four games in Hampton.
Way too early prediction: Texas.
Bossi's take: At times this spring, Young has tried to shoot his way through pressure and been prone to some silly decisions. In Hampton, he really started to move the ball and took smarter shots. Young still has to limit turnovers, but he was easily one of the session's premier players averaging 25.8 points, 6.3 rebounds and 8.8 assists per game
Way too early prediction: Kentucky.