Griffey comments on commitment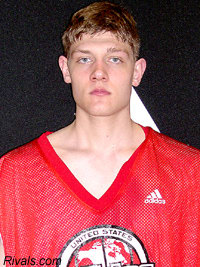 2009 power forwards have been committing in droves, and when Illinois told
Tyler Griffey
they were offering fellow power forward
Jack Cooley
, Griffey jumped at the opportunity to play for the Fighting Illini.
"Coach Weber called me Monday and said he was going to offer a power forward out of Chicago," said Griffey, 6-foot-8, 210-pounds out of Ballwin (Mo.) Lafayette High School. "I told my dad I wasn't ready to let Illinois slip, so he said we should make some calls and sleep on it. Over that time I realized that Illinois was the spot for me."
A hybrid forward with good ball skills, Griffey had a number of schools pursuing him. In the end it came down to two schools.
"It came down to Mizzou and Illinois," he said. "I also considered Wisconsin, Kansas, St. Louis, Miami and Virginia.
"With Illinois I just really liked Coach Weber and his honesty. He and Coach Price did a great job answering my questions over the couple years that I got to know them. They have some good players coming in, and I'm looking forward to playing with them."
As with many of the skilled forwards in today's game, what position Griffey will play depends primarily on the defensive side of the ball.
"It really comes down to who I can guard," said Griffey. "I have the offensive skills to play the three, but my defense needs some work. I'm not afraid to admit that."
Ideally for Griffey and the Illinois program, he will improve his strength and quickness and develop into a legitimate combo forward to go along with 2009 guard recruits
Joseph Bertrand
,
Brandon Paul
and
D.J. Richardson
. Typically, however, improved strength comes easier than improved quickness, and Griffey has all the earmarks of a skilled four at the next level.
Griffey is the No. 74 ranked prospect in the class of 2009.