Gregory Jackson's stock rising as visits are on the horizon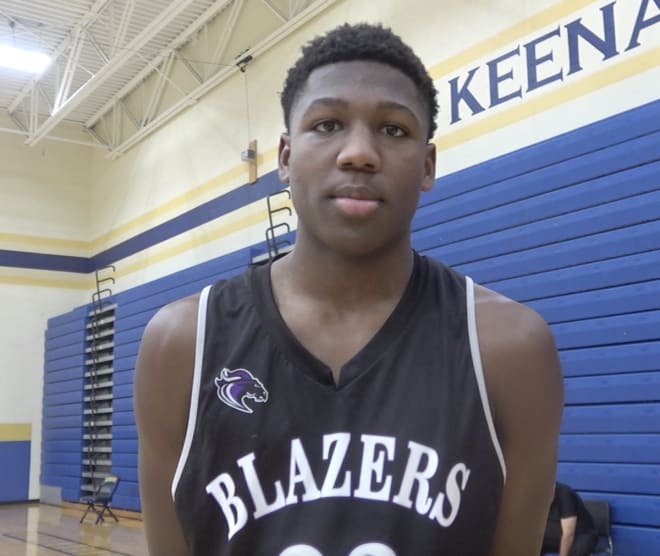 Gregory Jackson is ranked as the No. 20 prospect in the newly updated 2023 Rivals150, a bump up six spots in the rankings. This makes the Columbia (SC) Ridge View High power forward the No. 4 player in the nation at his position.
"I bring versatility to the floor. I don't just post up, I can also bring the ball up. I can play down low or outside," Jackson said.
Playing this summer with Team CP3 (NC) EYBL 16U, Jackson has a lot of college programs coming after him.
"I have offers from South Carolina, Clemson, Syracuse, Pittsburgh, Wake Forest, Boston College, High Point and Georgetown. I don't know the exact dates yet, but I'll be going on visits to go see NC State, Wake Forest and High Point soon." Jackson said, "I hear a lot from South Carolina, you know they're the hometown school, Virginia Tech, my high school coach is really good friends with them, High Point, and Georgetown, I would say the most."
*****
MORE: New class of 2023 rankings and the top storylines
2021 Rankings: Rivals150 | Team | Position
2022 Rankings: Rivals150 | Team | Position
2023 Rankings: Top 100
*****
IN HIS OWN WORDS 
South Carolina: "They said they feel like I can help them win basketball games and hopefully bring them a championship. I know from past years they have made it to the Final Four recently, so there is huge potential here. Frank Martin is their coach and he is a really hard coach, it's a really good program."
Georgetown: "They have Patrick Ewing, he's a Hall of Famer and I think our games are a little similar, you know, because I am a big man myself. He said he will help me a lot with my game, especially down low."
Virginia Tech: "They're telling me how well I will mesh with their players. They are fast paced up there, and they play a lot of defense."
Others: "We have heard a lot from North Carolina, NC State ... Tennessee and Texas Tech, they're all going to be watching me."
*****
RIVALS' REACTION 
Just watching him for one play, it's obvious the immense upside Jackson possesses. The lengthy and rangy forward simply does not move like most 6-foot-9 people do. He has a lot of fluidity in his step, and that shows as he attacks the basket. Able to grab and go or play from the high post or the low block, Jackson has the ball skills and the looseness to get to his spots. He has a lot of pop in step and plays above the rim on both ends of the floor. Still growing into his body, Jackson has a world of upside. He should continue to rise in the rankings.