Greg Gantt ready to make his move as next hot prospect from N.C.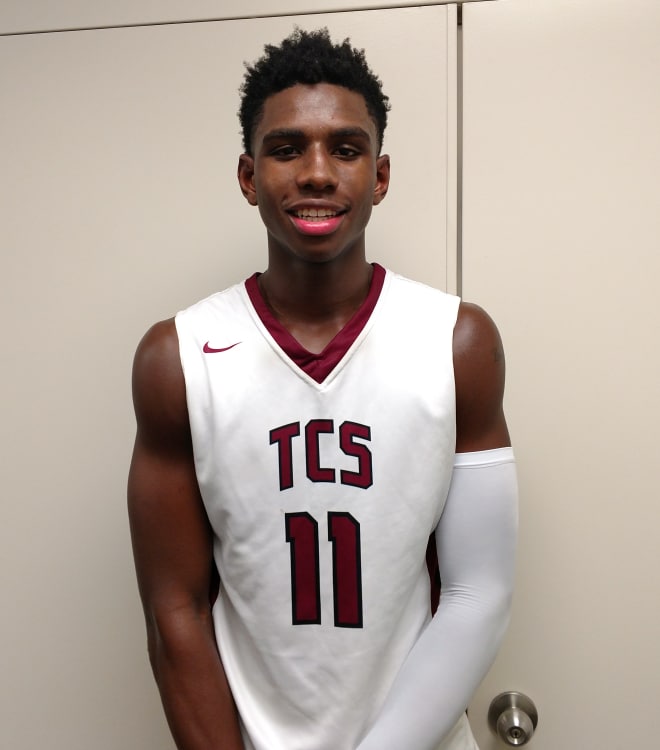 GREENSBORO, NC. – The state of North Carolina has not been short for talent in recent years, as the hotbed has produced elite prospects such as Harry Giles, Bam Adebayo and Dennis Smith Jr. While he does not have the comparable pedigree yet, Greg Gantt, a 6-foot-8 forward attending the same high school as Smith Jr., is prepared to emerge as a high-major talent this winter.
Running alongside Duke commit and five-star forward Joey Baker this season at Trinity Christian School, Gantt displayed all of the qualities of a highly touted recruit last weekend. After his time at the Phenom Hoops National High School Showcase, Gantt discussed the programs in the mix.
"Things are good right now. I have 12 offers. Providence, South Carolina, DePaul, ECU, and UNC-Charlotte are the main ones, but a lot of the high-majors, they know that I am athletic and can play defense, but the biggest step with my game is the offensive end," he said. "(Providence assistant) Coach (Jeff) Battle and Coach (Ed) Cooley talk to me every week. ECU talks to me a lot, but Providence probably talks to me the most."
IN HIS OWN WORDS
Providence: "I love those guys. Going through the college process, you can kind of pick out the fake ones from the real ones. I see the realness in them. When I am talking to them, they aren't BS-ing me, or sugar-coating anything, but instead they're upfront with you."
South Carolina: "I like those guys, too. Coaches over there, they try to take everything out of you. Watching them play, those are some dogs, especially on defense. If you go over there, they are going to pull the best out of you."
WHAT'S NEXT? 
UConn head coach Kevin Ollie immediately offered Gantt after watching him play Saturday.
No visits are expected in the coming weeks, though Gantt did say that he would like to schedule one to Providence; his last visit was taken to East Carolina a few weeks back.
RIVALS' REACTION
A 6-foot-8 junior forward with a great motor, Gantt is the ideal small-ball power forward for today's game. He is a tremendous passer facing the basket, can make the open jumper out to 18-feet and is tough and active enough to leave his mark on the glass.
The UConn offer is just the beginning of what could be Gantt's emergence as a priority recruit for the East Coast power conference programs. South Carolina and ECU have completed most of the legwork up until this point, though it does seem as if Providence is the program to beat.