Gibbons Tournament: Talent on display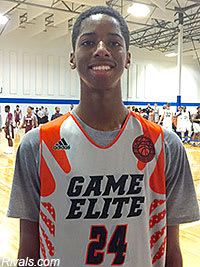 ATLANTA -- The Bob Gibbons Tournament of Champions always seems to attract some of the best travel teams from all over the country, and this year is no different. The tournament goes straight into bracket, so there is no room for error for teams trying to win the championship. It showed in the intensity of the games on Saturday, and brought out in the best in several players.
Sexton steals the show
The Southern Stampede 16U team fought their way into the semifinals on Sunday morning after winning two highly competitive, tight games down the stretch on Saturday. They did so in large part due to the play of lead guard
Collin Sexton
, a class of 2017 prospect out of Hillgrove High School in Powder Springs, Georgia.
After an up and down sophomore campaign with his high school team, Sexton seems to have hit his stride during travel season. At 6-foot-1 with arms with long arms and elite quickness, Sexton could not be stopped getting to the rim all day on Saturday. He lived at the free throw line where he rarely missed. To complement his ability to get to the rim, Sexton also possesses a deadly stroke from the perimeter and is capable of hitting shots with defenders closely contesting.
While he took on more of a scoring role on Saturday, Sexton's long-term position will likely be point guard. In an afternoon win over New Orleans Elite, Sexton was constantly harassed by scrappy guards, but took great care of the ball and made very good decisions for the most part.
What really stands out when watching Sexton is the confidence and swagger he plays with. He's one of those rare players that can talk a little smack with opponents and is able to feed off it.
Big day for Ballard, Georgia Stars
The Georgia Stars 16U team is loaded with players that will play college basketball at a high level someday, but one prospect in particular stood out above the others today: three-star wing
DeAndre Ballard
.
A 6-foot-6 wing, Ballard is wired to score and that's what he did all Saturday. In an afternoon victory over Florida Elite, Ballard went for somewhere in the neighborhood of 30 points for the Stars. He didn't score quite that many in the quarterfinal win over Juice All-Stars, but still made plays and helped the Stars cruise to an easy victory. He had the perimeter stroke rolling and made several crafty moves to finish at the rim. He's not the smoothest looking athlete around, but he always seems to find a way to score.
Ballard was far from the only top performer for the Stars.
Daniel Lewis
, a 6-foot-4 shooting guard, also put up big numbers in the scoring column and, like Ballard, did it in a variety of ways.
Chuma Okeke
, who recently added an offer from
Georgia
to go along with a
Florida State
offer, is a 6-foot-8 versatile forward that you could argue is the most important player for the Stars because of his unselfishness.
Ikey Obiagu
, a 7-foot-1 center, continues to get better every time out. Right now, he's mostly a defensive presence, but he's truly an anchor in the paint who makes it difficult on other teams to score in the paint.
One to watch
Each One Teach One took a tough loss to the Southern Stampede in the 16U quarterfinals on Saturday, but
Silvio De Sousa
, a 6-foot-7 forward in the 2018 class, emerged as somebody to keep an eye on moving forward.
A native of Angola, de Sousa just arrived in the United States a few months ago and enrolled at Montverde Academy in Florida. If Saturday night is any indication, Kevin Boyle, the head coach at Montverde, is going to enjoy coaching him over the next few years.
De Sousa opened up the game with a pair of put-back dunks. He possesses the type of athleticism where his teammates can throw the ball up somewhere near the rim and trust that he'll go up and make a play on it.
Going forward, de Sousa will need to continue to polish up his skill set and learn to become a more consistent player, but there is little doubt that he has the natural ability that will get college coaches excited about his long-term potential.







Click
Here
to view this Link.