Georgia closes out 2019 with addition of Michael Peake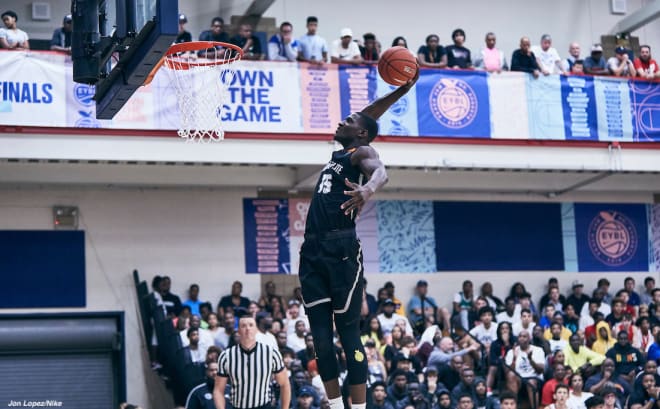 It wasn't too long ago that committing as a member of the class of 2019, much less to a high major like Georgia, seemed out of reach for three-star forward Michael Peake.
But, thanks to some hard work in the classroom during his senior year at Overland Park (Kans.) Blue Valley Northwest and coming up big on grassroots basketball's biggest stage -- the Nike Peach Jam -- the 6-foot-7 forward is now a Georgia Bulldog and will be hitting campus for the 2019-20 season.
Expected to attend a year of prep school to focus on grades, Peake got good news.
"I'm excited to announce that I've officially qualified and will be reclassifying to 2019," said Peake.
"I'm excited to announce my commitment to the University of Georgia. Coach (Tom) Crean has a long history of developing players at the highest level. I'm excited to get to work and give him the chance to develop me."
A long and bouncy forward who will do the dirty work on the glass, Peake is developing as a mid range jump shooter and is an SEC quality athlete.
"Coach Crean believes in positionless basketball," Peake told Rivals.com. "He develops his bigs to be able to put the ball on the floor and drive it. He lets them stretch the floor and shoot the three. I'm really excited about that. He loves my motor and thinks I can be a great rim runner. He's already talked to me about the weaknesses of my game and has a plan to develop me. I'm just excited."
Georgia already has a strong 2019 class headlined by five-star shooting guard Anthony Edwards. With the addition of Peake, the class will now rank No. 5 nationally. Peake isn't just happy to be a part of the class either. He's looking to come in and contribute right away.
"They think I've got a chance to play from the start," said Peake. "My plan is just to come in, work hard and fit in with the team. I plan on competing and playing with a high motor. I'll bring defense and toughness. I know I need to rebound and run the floor. I'll knock down the open three when I get the chance and allow my game to grow from there."