Georgia big mans development taking off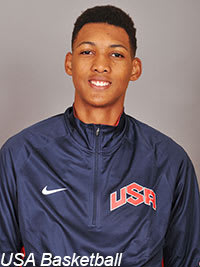 Notice the use of the word currently because the near 7-footer out of Locust Grove (Ga.) Luella is currently under-ranked at No. 38 in the Rivals150. He is an almost sure bet to move to five-star status when rankings are updated.
His development and potential was on full display at Blue Collar Basketball Showcase in Norcross, Ga. over the weekend. In a tough loss to host Greater Atlanta Christian, Moore accounted for nearly 20 points and made his presence felt on the defensive end blocking or altering shots and snatching up rebounds.
"I've been playing well this year," Moore told Rivals.com. "We're 5-4 right now. We just need to get that extra edge on defense and box out better."
Recruiting has picked up for Moore in recent months with many of the top basketball programs in the country making contact with him regularly.
The amount of recruiting can be overwhelming when it heats as fast as it did for Moore. At this point, he claims no favorites.
"It's hard to say which ones I like most because I haven't taken many visits yet," said Moore. "It's all based on what I've seen watching those schools play on TV. I want to take some visits first and then go from there."
"I've been to Georgia Tech for both a football and basketball game," said Moore. "They went well. I liked the campus and everything else. They are a great program. They put a lot of people in the NBA. They have Robert Carter and Quinton Stephens that played for the Atlanta Xpress ahead of me." said Moore.
Ohio State is another school that has caught the attention of Moore with their development of post players such as Jared Sullinger.
"They have a great big man program," Moore said. "They know how to develop bigs like Jared Sullinger and a bunch of others."
For a very similar reason, Maryland has gotten into the mix.
"The main thing I like about Maryland is that they sent one of their big men from last year, Alex Len, to the NBA and he got picked high. That's intriguing to me," said Moore.
"They obviously have a great program and just won the championship. They know how to use all their players. Coach Pitino came to see me practice once a couple months ago," Moore revealed.
At the moment, Moore seems to be in no rush to make a verbal commitment. He'll take his time with the process and hopes to decide at some point during his senior year of high school.
"I'll either decide at the end of my senior year and late next summer after AAU season ends," said Moore. "I'm looking for a place I can play all four years and a place where even if I get hurt I will get a great education."

[rl]