GBOA gets Vegas started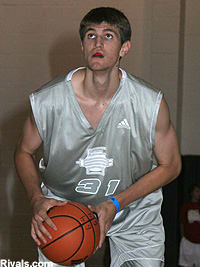 LAS VEGAS -- Let the games begin. The week long marathon of summer basketball is under way as the GBOA Challenge of Champions rolled into action.
Star power
How about a little drama to start things off with a bang in Las Vegas? Leave it to
Terrence Jennings
, who is here playing with the Oakland Soldiers. The 6-foot-10 forward probably wasn't the player in the huddle that would normally get the call for a three-pointer as his team was down by two with less than 10 seconds to play. However, he had the ball in his hands on the wing and with two ticks left on the clock, the big man heaved up a shot with two defenders in his face.
The bucket sank and Jennings was the hero in this one as Oakland Soldiers snuck past Compton Magic on Friday afternoon. Jennings finished with 18 points.
Not to be outdone, Jennings had a lot of help from a fantastic mid-major target
Collin Chiverton
. The 6-foot-4 wing from Archbishop Mitty (Calif.) scored a team high 21 points in the win.
Chiverton will be an interesting player to watch this week. He's a good shooter with good size and has grades. Chiverton said St. Mary's, Pepperdine, Santa Clara, Marquette, Nevada, Utah, Loyola Marymount, San Fransisco, San Diego, Long Beach State, UC Santa Barbara and Portland. He said he's hoping to trim his list down after this final go round on the grassroots circuit.
Cal commit D.J. Seely was equally impressive with his play. The 6-foot-3 guard scored 30 points. Seely scored in a variety of ways and certainly made it look easy.
Jeff Withey
is playing with power and showing more aggressiveness inside the paint as an offensive player. Withey knocked down a pair of great looking perimeter shots and one in the midrange. And, of course, he played aggressive around the rim and worked the offensive boards for put back dunks and was the beneficiary of good guard play. Withey finished with 22 points in the win.
The 7-footer is playing with Belmont Shore this week in Las Vegas and playing with his future Arizona teammate
Brandon Jennings
.
Jennings came out firing from deep, burying five three-pointers in the first half but credit is due on his part because he was actively trying to work a two man game with Withey. The two ran some high screens, mostly to open Jennings up from deep. Jennings lived up to his reputation and dropped in a cool 28 points in the victory.
Also making a splash for Belmont Shore was
J.P. Olukemi
and
Darius Morris
. Olukemi, an athletic 6-foot-5 wing from Stoneridge Prep (Calif.), scored an impressive 16 points. He's a slasher extraordinaire with good size and good bulk. Olukemi said Colorado is his only offer to date while Washington and Kentucky are taking notice, he said.
Morris, a 6-foot-2 point guard from the 2009 class, added 11. Morris said he has offers from Washington State, Arizona State, Cal, Boston College and Portland while Oklahoma, Connecticut, Washington, Southern Cal and Stanford are all interested. Morris also added he's a 3.5 student.
The Richmond Squires had 21 points from five-star wing
Karron Johnson
, a 2009 prospect. The 6-foot-7 wing from Virginia showed great moments with his top flight athleticism and size.
Mike Rosario
put his game on cruise control against an under-matched opponent on Friday afternoon and quietly scored on six three-pointers en route to a very easy-looking 26 points. At this point in the summer, the separation from the good ones and the average ones is easy to spot. Rosario, a Rutgers commitment, has done a fine job of proving himself as one best scorers on the wing in the class of 2008.
Like Rosario, Pittsburgh commitment
Travon Woodall
did a lot without having to break much of a sweat. The 6-footer from St. Anthony's scored a rather pedestrian 18 points in the win.
Down by 22 points at the half to the I-Can All-Stars, class of 2009 point guard Darryl Traynham helped his D.C. Assault club climb back into the game with his play. The 5-foot-8 floor general gets it. He knows how to play and doesn't make many mistakes. He goes, the Assault goes. Traynham will return to his 16 and under team for the remainder of the week's activities in Las Vegas.
Recruiting scoop
Matt Simpkins
, who scored 21 points in a victory over DC Assault for his I-Can All-Stars club, said his top five consists of Cal, Washington, USC, Connecticut and Florida. Simpkins said he has tentative plans to go to Connecticut on August 1 for an unofficial visit and then to Florida later in the month.
As usual,
Jordan Hamilton
was knocking down three-pointer after three-pointer. The five-star class of 2009 prospect had four of them and finished with 23 points in the win over D.C. Assault. Hamilton said his list consists of Texas, Syracuse, Connecticut, Washington, NC State and Arizona. All but Syracuse has offered, he said.
Hamilton said he will visit Texas in August. Don't expect a decision from him in a while. The Los Angeles native said he will decide when he is a senior.
After making a great impression at the Rbk U camp earlier in the month,
Quincy Acy
has seen his recruitment sky rocket. The 6-foot-7 Mesquite (Texas) Horne High School product said he has heard from Connecticut, Arizona, Florida, Texas, UNLV, Baylor, Oklahoma, Nebraska, Arkansas, Texas A&M and Kentucky since his time in Philly. His AAU coach Mitch Malone with Texas Blue Chips said all of the programs have said "if you want to play here, you can come." Malone also said Acy will positively be in the class of 2009.
Acy's teammate
Erick Frederick
said he has offers from Syracuse, Connecticut, Tennessee, Wisconsin, Oklahoma State and Iowa State. The 6-foot-6 wing said he will return to San Antonio's Cornerstone Christian this school year.
Texas Blue Chips forward
Brandon Moore
didn't play on Friday but the 6-foot-7 Louisiana native will be on the floor when the college coaches roll into town. Likely to be there will be coaches from Arkansas, Kentucky, Southern Cal, Texas, Texas A&M, LSU, Wichita State and Tulane. Moore listed all of those schools on Friday.
Odds & Ends
Too bad college coaches weren't on hand for the GBOA Challenge of Champions. If they were, the maturity level may have been higher. Nearly every game had technical fouls and enough jawing back and forth between teams to mirror the Winky Wright-Bernard Hopkins fight.
Justin Young is as senior writer for Rivals.com National Basketball Recruiting. He can be reached at jyoung@rivals.com.