GASO: Top performers
DUNCANVILLE, Texas -- Rivals.com arrived late Saturday afternoon to finish off the second live period of July at the Great American Shootout. Over the course of play on Saturday and Sunday, nobody played better than fast rising senior shooting guard Andrew Jones and he leads our list of the top 10 performers from the event.
Andrew Jones
-- During the high school season, Rivals made a trip to see the 6-foot-4 shooting guard play and pegged him as a guy who would explode onto the scene during the spring. The explosion didn't happen until July, but as of today, he is as hot a shooting guard prospect as there is in the country. Jones has been shooting the ball extremely well and even knocked down some NBA range threes in Duncanville. The Nike Pro Skills standout is fast, can finish with athleticism in the lane when he turns the corner on a ball screen and he's a good passer. His defensive effort could use some more energy, but he's a lock for the post summer Rivals150 in 2016 and most likely enters in the four-star range. He now holds offers from
Arizona
,
Baylor
,
Kansas State
,
SMU
,
Texas
,
Texas A&M
,
Oklahoma State
,
Virginia
and many more.
Clevon Brown
-- Each and every year at the GASO, somebody explodes onto the scene, and this year it was Brown, who plays for SABO Gold. A long-armed and pretty skilled 6-foot-7 power forward, Brown has explosion when he needs it and is an intelligent player with feel.
Georgia Tech
and
Vanderbilt
recently dropped offers and he was watched by head coaches from Oklahoma State,
Indiana
, SMU,
Tulsa
,
Texas Tech
and Texas.
Jarrett Allen
-- It wasn't a thoroughly dominant performance from the five-star rising senior, but his Texas Pro team won a championship and his presence in the lane was a huge reason why. Pushing 6-foot-10 with long arms, Allen has soft touch, finishes with both hands, disrupts shots defensively and rebounds all over. He looks a little tired from a long spring and summer, but he can be as good as he wants to be and has the ability to climb even higher than his current No. 17 ranking in 2016.
Cameron McGriff
-- The 6-foot-7 combo forward has had a terrific grassroots basketball run and his play at GASO was no exception. He helped lead Urban DFW to a championship in its division and did so by playing defense, crashing the boards and running the floor in transition. He's making a case for another move up from his current spot of No. 112 in the 2016 Rivals150.
R.J. Nembhard
-- His Nike Team Texas Elite squad fell to Texas Pro in the finals of their division, but the 6-foot-4 rising junior played some of his best ball. Long term, Rivals likes Nembhard as a shooting guard, but he played a lot of point and did a good job of it. He dictated pace, used changes of pace and was effective on mid-range jumpers and strong drives to the hole. He backed up his ranking of No. 51 in the class of 2017 top 100.
Alex Hobbs
-- His teammate
Jarrett Allen
provides the star power for Texas Pro, but Hobbs provides a steady hand on both ends of the floor and is a leader. He hit deep shots, defended well and seemed to come up with the right basketball play over and over again. The three-star prospect is a really solid player.
Josh Parrish
-- One of the most aggressive attackers of the rim at the GASO, the 6-foot-5 rising senior was another big reason Urban DFW Elite ran away with their divisional title. His older brother Brandon, who plays at
TCU
, was a jump shooter who had an inconsistent motor in high school. Josh is opposite. His motor is always running high but his jumper is inconsistent. He's put himself on the high major bubble and will draw big crowds this week in Las Vegas.
Trent Frazier
-- A class of 2017 combo guard from who entered the GASO armed with offers from Murray State and Duquesne, Frazier should have more soon. The Floridian isn't the biggest scoring guard at 6-foot-1, but the lefty has quickness, plays aggressively and is a very dangerous shooter from deep who has quickness off the dribble. His play with the Wellington Wolves had high-end mid-major and some high-major coaches scrambling for info.
Brady Manek
-- Like Landrum, Manek is a rising junior from Oklahoma. However, he plays for the Oklahoma Wizards 16U team. A 6-foot-7 power forward with a lean build, Manek showed touch, versatility in the post and a bit of a mean streak when it came to getting physical and competing for rebounds. He has drawn offers from
Oklahoma
, Oklahoma State and Tulsa and was watched by head coaches from all three programs.
Elijah Landrum
-- A class of 2017 point guard, Landrum isn't the biggest guy at about 5-foot-9, but he is an extremely explosive athlete and plays hard on both ends. He can attack the rim and finish against bigger players and is a streak jump shooter who likes to compete. The Athlete's First product reminds Rivals a little bit of former SMU standout Bryan Hopkins.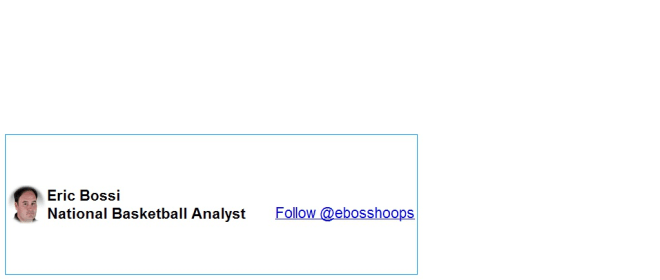 Click
Here
to view this Link.