GASO: Risers and sleepers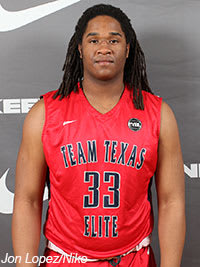 DUNCANVILLE, TEXAS -- Earlier we touched on the top 10 performers from the Great American Shootout. Now we cover a dozen prospects, like rising junior power forward Tristan Clark, who helped their stock with their performances.
Adrio Bailey
-- A hard playing and athletic 6-foot-7 forward, Bailey plays way above the rim in traffic or transition. He rebounds, plays aggressive defense and has a ton of energy. The rising senior is picking up lots of interest with
Arkansas
,
Oklahoma State
,
Louisiana Tech
, Wichita State and many more starting to show the love.
Deon Barrett
-- A rising senior point guard, Barrett is only about 5-foot-9 or so, but he is one tough customer and can shoot with deep range. Playing for Lone Star Elite, he showed zero fear about letting the ball fly from deep or attacking the rim. He's got some leader in him as well.
Tristan Clark
-- The rising junior three-star power forward from San Antonio didn't always get to show what he could do during the Nike EYBL season because of talented 2016 guys like
Marques Bolden
and
Schnider Herard
playing ahead of him. With them out, Clark seized his opportunity. He tries to tear the rim down, can run the floor and has some touch to 12 feet. He's a strong candidate for the next update to the 2017 rankings.
Jarrett Culver
-- A skinny off guard from Lubbock, the rising junior is an adept playmaker. He shoots it a bit from range, can attack the rim via the dribble and isn't afraid to get into a crowd and mix it up. Once he starts getting stronger, he could really surge because the base skill level and feel are all there.
Denzale Henderson
-- Playing for the Houston Hoopstars, the thin seven-footer showed some promise and progress. Henderson ran the floor well, tried to dunk everything he could around the hoop, disrupted some shots and was pretty active on the boards.
Mike Layssard
-- Layssard, a rising senior center with bulk, is tough to move around in the low post. He showed pretty good hands, some soft touch and did a nice job on the glass. A college strength and conditioning program will help him immensely and he has upside as he works into tip top shape.
Chris Mullins
-- Mullins was one of the most impressive class of 2018 players in attendance. He is definitely one Rivals will be watching down the road. A smooth two guard with 6-foot-3 size, Mullins has a good looking jumper and can already put the ball on the floor a bit.
Scott Perry
-- Playing for the Florida based Wellington Wolves, the 6-foot-4 wing showed a motor that you have to appreciate. He slashed to the rim, handled some in transition and looked like a good enough jump shooter on the shots he did take from the perimeter. He looks like a good one for mid-majors to target.
Nolan Taylor
-- Playing for Team Texas Elite, the 6-foot-7 power forward showed off a high skill level and terrific feel for post play. Taylor is primarily an under-the-rim guy, but does an outstanding job of using his body to create space, spinning to either shoulder or stepping out to hit jump shots.
Michael Weathers
-- We arrived just in time to see the three-star combo guard finish up a 36-point performance against Pro Skills. Unfortunately, it was a loss and his JC Hoops squad's last game. He gets to the rim with regularity, is a good athlete and is starting to emerge as a jump shooter. The offers should start rolling in soon.
Fabian White
-- A class of 2017 power forward, White will be one to track closely. The 6-foot-7 four man is bouncy, plays with a tremendous motor and seems to have a good sense for being in the right place at the right time. His first offer came from
Houston
and he has early interest from
Baylor
,
Creighton
, and
Texas Tech
.
Deandre Williams
-- Williams, a member of Texas Pro, is an intriguing forward prospect. It is mostly because Williams is so mobile and capable of attacking the rim off the dribble at around 6-foot-8. He moves very well laterally, has a pretty good looking shot and looks to be a guy who is just starting to scratch at the surface of his potential.