G League makes a major statement in landing Green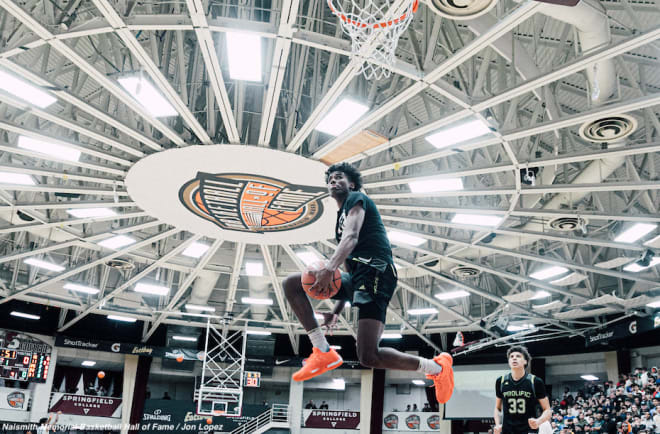 Five years ago, the talk surrounding Jalen Green would have revolved around which college he was going to select on Thursday.
Instead, Green will never step onto a college hardwood, taking away even greater excitement from the college game.
The G League made a major statement Thursday when Green, the No. 2 player in the 2020 class, elected to go that route for a one-year, $500,000 deal according to sources. That's a dramatic increase from original reports that salaries would be more in the $125,000 range.
But the way that the G League saw it, if its top domestic talent was going to leave for Australia or another country, why not invest further with its Select Contract, instead of sitting idle while both the local colleges and NBA franchises lost out?
*****
*****
HOW WE GOT HERE
Last May, RJ Hampton skewed the college path and signed an NBL contract in Australia. Was Hampton the trendsetter for his future elite peers?

Green is slated to become the posterchild of the G League's initiative, which Isaiah Todd will likely also join, and it wouldn't be a surprise if a few others including Jalen Suggs or Greg Brown follow a similar route.
Rod Strickland, in 2018, was named to oversee such a project but it wasn't until recent months, with the greater backing of G League President Shareef Abdur-Rahim, that this new outlet has become a legitimate path for prep standouts. These opportunities are just the beginning for what could be the continual outlet for the elite to entertain every spring, that is until the one-and-done is no longer.
PEER TAKE
For members of the 2021 class, could such a path be one they could see themselves taking?
"Well, I don't think I could ever say $500,000 isn't intriguing," five-star junior Chet Holmgren said. "However, I just don't think I know enough about it to really take a stand in comparison to other options. It definitely is a huge difference from what it was, though."
Another five-star prospect from the 2021 class, Harrison Ingram, supported Holmgren's claims.
"Maybe, if the circumstances changed, it would intrigue me, but as of right now, it doesn't," said Ingram, who is considering Purdue and Stanford, among others. "Education is something that can't be taken away whereas one bad landing spot can end my basketball career. College is important to my family and me."
COACH TAKE
While Holmgren and Ingram might not be ready to show their hand, there is a good chance others might be willing to take such a leap. In the meantime, college programs are reshuffling their own pitches and who they pinpoint on the recruiting front.
"It will shift many things starting from the top down. We are talking about a very small pool of individuals," an SEC coach told Rivals. "The high-major-plus programs that would have been in position to take them, those programs are now taking a few players that potentially would have gone to other high-majors. As the top talent pursue opportunities outside of college, programs still have to fill the 13 spots, and have to pursue other options."

Another Pac-12 coach saw things both ways.
"I believe kids deserve to make their own choice for what is best for them and their families. If a kid doesn't want to be a student, he shouldn't have to go to class," he said. "I do believe the college experience is the best way for kids to grow and develop as men, though. There is no replacement for that."
OUR TAKE
This is a new day in recruiting.
How Green and Todd excel and develop next year will be reflected by their standing in the 2021 NBA Draft. Either way, it doesn't appear as if this new G League path will be going away. Just as Duke and Kentucky have dominated the world of one-and-dones, the G League now will start getting some, too.