Freshman big man impresses at Spring Showdown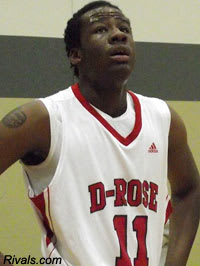 MERRILLVILLE, Ind. -
The Spring Showdown kicked off on Friday night inside the Merrillville Fieldhouse. While the majority of the more well known names won't be hitting the floor until Saturday, Friday night offered a chance to get a look at some lesser known prospects. In particular, it gave touted class of 2014 big man
Cliff Alexander
a chance to impress.
Friday night Spring Showdown notables
Cliff Alexander
, PF/C, D-Rose 15's- Easily the most intriguing guy of the night, the 6-foot-8 freshman from Chicago (Ill.) Curie is a talented young big man. Standing around 6-foot-8 with long arms, he dominated interior play with his rebounding and shot blocking. His hands are good and he shows signs of offense with a jump hook, a nice step-through and the ability to finish through contact. Alexander only mentioned Illinois when asked who has shown early attention.
Alex Olah
, C and
Milos Kostic
, PF, CAPS- A duo who recently committed to Northwestern, Olah is a class of 2012 center while Kostic is a class of 2013 power forward. Standing around 6-foot-10, Olah is a space eating big man who clogs the lane, scores around the rim and projects as more of a power player. The 6-foot-7 Kostic is cut out of the mold of a face-up four man who looks to stretch defenses with his perimeter jump shooting.
C.J. Jones
, PG, Meanstreets- Ball State has landed themselves a physically tough and athletic point man who looks to score. He prefers to attack off the dribble and is also a solid defender. Because of his size and strength, he's capable of playing some off the ball and will become a more complete player as he learns to involve himself when the offense doesn't run directly through him.
Darrell Combs
, PG, Meanstreets- A new name for Rivals.com, Combs is a solid 6-foot-1 floor general. Takes pretty good care of the ball, has some shake and bake in his game and the 2012 point guard has nice burst with his first step while attacking the rim.
Antonio Bishop
, PF/SF, Meanstreets- A 6-foot-6 combo forward from the class of 2012, Bishop is an upside guy who just seems to be hitting stride. Athletic with big shoulders and long arms, he can catch and attack the rim from the free throw line thanks to a good first step and Bishop is quick off of his feet around the rim.
Kendall Pollard
, SF, D-Rose 16's- Because Chicago (Ill.) Simeon is so loaded with talent, the 6-foot-4 Pollard spent most of his high school season playing for the sophomore team. A long armed wing who has to play a bit in the post because his team lacks size, he's an intriguing transition and halfcourt finisher at the rim.
Nick Billingsly
, SG, Team Nebraska 16's- A 6-foot-3 athlete, Billingsly hasn't quite put it all together but the signs are there. He runs the floor well, can attack in transition and has the physical attributes that should help the sophomore develop into a fine finisher and defender.
Russell Robinson
, PF, BBG- Maybe even skinner than rail thin, the 6-foot-7 southpaw isn't going to win any strongman contests. However, he does have a sweet jumper that is good to 20 feet and nice base skill level. If he can add strength, he's intriguing as a long term stock.
Frank Williams
, SF, BBG- Although not as thin as his teammate
Russell Robinson
, the 6-foot-6 Williams is thin. However, he's also a lengthy wing who can handle the ball a little, has a good looking shot and shows some finishing ability at the rim in transition.
Marvie Keith
, PG, Illinois Warriors 16's- The 5-foot-10 speedster is a bit of a wild man, but he's got talent. Offensive minded, he's a willing shooter from deep who can also push the tempo and finds ways to get into the lane off of the dribble.
Elijah Ray
, PF/SF and
Steve Hawkins
, PF, D-Rose Indianapolis- High school teammates at Bowman Academy in Gary, Ind., Ray and Hawkins are an interesting pair. Despite only being about 6-foot-5, Ray is a strong and athletic combo forward who is a bit of a power broker on the interior and capable of making mid range jumpers. At 6-foot-8, Hawkins isn't near as physically developed as his teammate, but he is a long and fluid athlete who runs the floor, blocks shots and is quick to the rim in traffic.