Four-star wing Max Agbonkpolo could be trimming list soon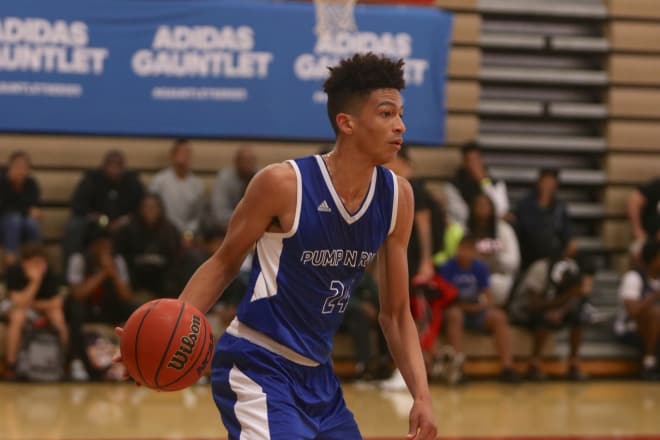 Few in the class of 2019 on the West Coast have seen their stock soar over the past few months than four-star wing Max Agbonkpolo.
A skilled 6-foot-7 wing from Rancho Santa Margarita (Calif.) Catholic who currently ranks No. 94 nationally, Agbonkpolo is building a case for a rise into the top 50 and his confidence has a lot to do with him earning offers from Arizona, Arizona State, Texas, San Diego State, Washington, USC and more.

"My confidence has been big. Last year I didn't have a lot of confidence I was still trying to get my groove with my teams. Pump 'N Run took me this year and really wanted me to be one of the guys and that just helped my confidence go sky high and I've been playing a lot better.
"I always wanted to be the guy who is responsible and the main guy and I think I like that a lot. Doing well like I've been doing has helped me a lot."
IN HIS OWN WORDS
Agbonkpolo discussed the Pac-12 teams hitting him the hardest along with a Big 12 team he'd like to see.

Arizona: "They said that they liked me a lot and I went there. It's a crazy campus and all of the stuff they have for the players, they really treat their players amazing. Tucson, it's Arizona infested there, everybody just loves Arizona and I thought it was great."
Arizona State: "I talk to Bob Hurley a lot and he really likes my game and what I can do and would be able to do for the team. Tempe seems like it could be great too."
Texas: "Texas is great. They are always calling me and always texting me to see how I'm doing. They are always trying to come to my games and if not they are checking to see if we won or not. I'm definitely going to take a visit out there to see how it is but Texas seems really cool."
USC: "I really like USC. It's close to home and I'd always be with family if I went there. USC, they are showing a lot of love to me and I really like USC. They are definitely going to be up there when I'm making my decision."
Washington: "I love coach (Mike) Hopkins, he's a really funny guy. They are great too and I'm probably going to get up there. I've heard it's a lot of fun. I have a friend from school who just went there to see how it is and he has been telling me it's an amazing school."
WHAT'S NEXT
Up next for Agbonkpolo is a cut to his list. As things stand, the five he discussed appear to be in the best shape.

"I'm probably going to be cutting it down here real soon," said Agbonkpolo. "I'm talking to the coaches but I'm thinking that it will maybe be three or five and then after AAU season I'll hope to come up with my decision."