Four-star Ryan adding offers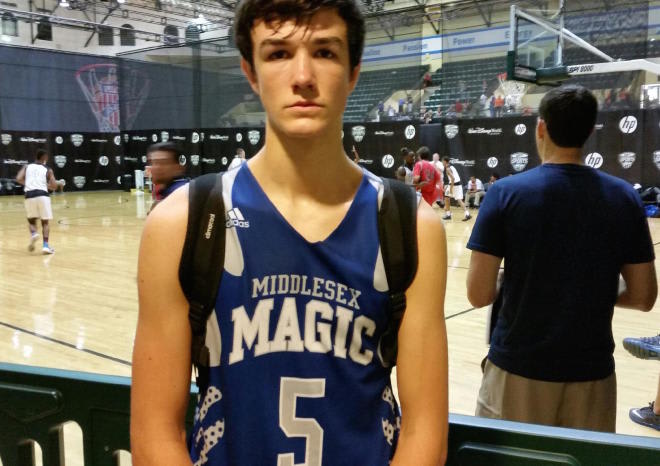 After a strong summer with the Middlesex Magic, four-star shooting guard Cormac Ryan has emerged as one of the hottest names in the class of 2018.
The 6-foot-5 scorer from the Milton (Mass.) Academy has been racking up offers at a steady pace. Over the weekend, Ryan was in Ann Arbor and added an offer from Michigan to a list that now includes Indiana, Stanford (where he visited in June), Northwestern, Florida, Boston College, Rice, Davidson, St. John's, DePaul, Tulane, Harvard, Penn and Yale (where his father played).
Others that have indicated interest since the summer include Notre Dame, Virginia, Duke, Wake Forest, Vanderbilt and Georgetown.

IN THE WORDS OF HIS COACH
The head coach of the Middlesex Magic, Mike Crotty chimed in on Ryan.
"I've coached Pat Connaughton (Portland Trail Blazers) and I've coached Duncan Robinson (Michigan) and my dad had some guys before me. Ryan has as good a skillset and competitive fire as anybody that I have coached."
"He dribbles the ball really well and he sees the floor and he's a playmaker so he can be a combo. Because of all the scoring I was asking him to do I probably played him as a combo but I think he has the tools to be a point guard at the highest level."
WHAT'S NEXT?
At the moment, Ryan doesn't have any visits on the book for the near future. However, he will most likely be looking into who else is really serious after his summer and trying to knock off some visits.
Though Ryan is not yet ranked in the class of 2018, the four-star guard will be making his debut when rankings are updated later on this month.

RIVALS' REACTION
It's not surprising to see the kind of attention that Ryan has generated. He is a very skilled and dangerous scorer who is equally comfortable creating his own shot off the bounce or coming off of screens. He rebounds the ball well, he can make plays for others and he is a good athlete who looks quite natural on the floor.
From what Rivals.com has found, the recent offer from Michigan appears to have been well received but Ryan does not look to be in any kind of hurry to make a decision.