Four-star PG Ty-Laur Johnson previews Nov. 12 decision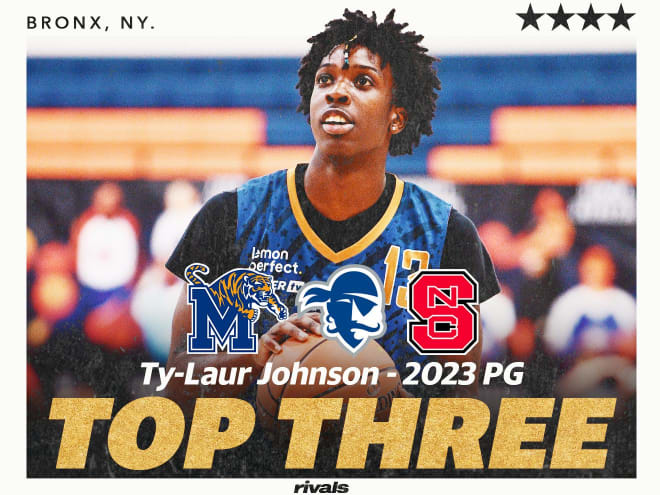 The No. 54 player in the 2023 class, four-star point guard Ty-Laur Johnson is closing in on an announcement. The New Jersey-based standout has set a Nov. 12 commitment date and narrowed his focus to include just Memphis, Seton Hall and NC State, all of which he's already visited. Johnson recently previewed his decision with Rivals.
*****
ON MEMPHIS:
"[Memphis assistant] Andy Borman is my guy. We have a great connection. Then, I have a really good relationship with Penny [Hardaway]. He's an NBA player and he knows what it takes to get there."
ON HOW HE FITS IN WITH MEMPHIS
"Basically, everything would run through me if I went there. They told me they are going to let me play my game, so I like that."
ON NC STATE
"The facility is really nice there. Coach [Kevin] Keatts lets his guards play; he really lets them go. I like the style of play there a lot. That's, like, a guard school."
ON SETON HALL
"It's close to home and all my family will be able to get there to support me. Then, me and Shaheen [Holloway] have a lot in common. The team is great, too . I know some of the guys, like Jaquan [Sanders], already."
RIVALS' REACTION
Johnson's recruitment has been a bit back-and-forth as of late, as NC State looked like a sure thing not long ago. That said, Memphis came on strong during an official visit and should still be seen as the slight frontrunner. The four-star guard was impacted by his trip to NC State and would likely land there for college if all things were equal, but his relationship with Memphis assistant Andy Borman, who used to run the NY Rens grassroots program for which Johnson plays, might be too much to overcome.
That said, there's no such thing as a lock in recruiting and Johnson's Nov. 12 announcement day is still nearly a week away. Seton Hall is the dark horse of the group but can't be counted out completely.