Four-star Nolley progressing toward October decision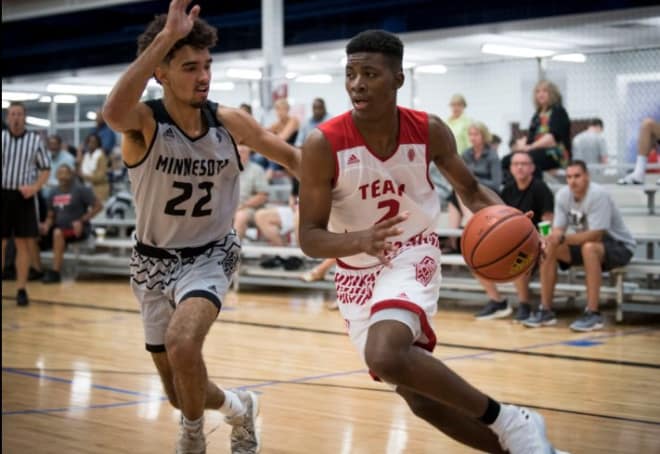 Landers Nolley is starting to move forward with the recruiting process after a full year of receiving attention from high-major programs. A few weeks back, Nolley put out a list of five official visits that consisted of Georgia, Illinois, Oklahoma State, UConn and Virginia Tech.
This past weekend, he took his first official visit to Illinois. Visits are set for Virginia Tech later this month and then Georgia and Oklahoma State during October. At this point, it looks like UConn is no longer a serious option for the four-star wing in the 2018 class.
IN HIS OWN WORDS
Nolley talked about his first trip to Illinois and what stands out about the other schools involved in his recruitment.
Illinois: "It was good. That was my first time there. The new coaches there are nice. I could tell they really want me there."
Georgia: "It's the in-state school. Coach Mark Fox and Coach Jonas Hayes are doing a good job. I'd play the '1' through the '3' there."
Oklahoma State: "They talk about most of the same things and coming in and making an impact as a freshman. I talk to them almost every day."
Virginia Tech: "Coach (Christian) Webster and Coach (Buzz) Williams, they were at every game this summer and call me every day."
WHAT'S NEXT
Virginia Tech will be the next visit for Nolley on Sept. 29. He'll go to Georgia and Oklahoma State the next two weekends, and could still schedule a fifth visit at some point. Nolley said he's aiming to make a verbal commitment by the end of October if possible.
RIVALS REACTION
Nolley's recruitment has been hard to get a good read for a while now. Different schools have had momentum with him in the past year only to tail off. Nolley spent a few years living in Chicago, so the idea of going back to Illinois for school could intrigue him. While he doesn't admit to it being a factor, it's been widely speculated that staying close to home could be a factor that helps Georgia. But it'd be wise not to rule out Virginia Tech with the relationship he's built up with Buzz Williams and his staff.