Four-star King talks Kentucky, Oregon, St. John's, Syracuse
WEST BERLIN, N.J. – A skilled, talented and versatile small forward, there is not much that Lou King cannot do. A high-end four-star prospect in the 2018 class, King displayed his entire arsenal over the weekend at The Scrimmage, burying jump shots, creating for others and defending multiple spots on the floor.
Standing at 6-foot-8 along with added length, King's recruitment has continued to improve. Recently pulling in an offer from Oregon, others that remain involved include Kentucky, St. John's, and Syracuse, plus a bevy of other notable programs on the East Coast.
The Hudson Catholic product's potential has caused for his phone to ring nonstop. He said he's heard from Oregon, Louisville, Syracuse, Kentucky, St. John's, NC State, Maryland and Seton Hall most.
IN HIS OWN WORDS
Oregon: "It stands out that they made the Final Four and they offered me right after they lost. It means a lot that they see that I have the potential to play for their school."

Kentucky: "I have been playing with Isaiah Briscoe since I was a freshman in high school. I have been looking forward to a Kentucky offer, hopefully."
St. John's: "Coach (Chris) Mullin is a great coach. He offered me two years ago when I was a freshman; it was my second offer. I have been there for some visits and practices."
Syracuse: "I spoke to coach (Adrian) Autry a week ago. He wanted me to come visit; the last time that I was up there was for the Syracuse camp last summer. I am going to try and take another visit up there around September."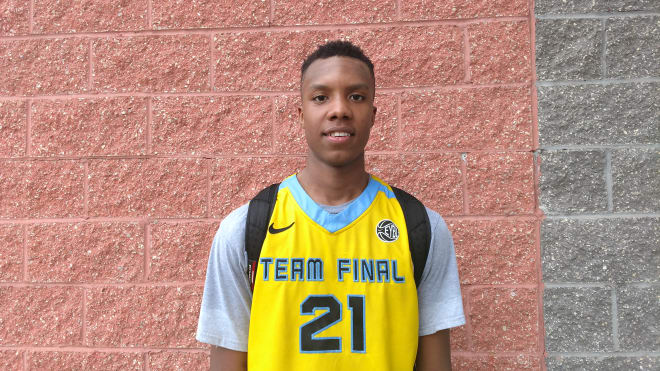 WHAT'S NEXT?
King will finish out his final year of travel ball alongside five-star small forward Cameron Reddish on the Nike circuit this spring and summer, suiting up for the Team Final program. When it comes to a timetable for a decision, a commitment is still some time away.
"I just want to take it all in right now but I want to narrow it down sometime soon," King said. "I would like to visit Oregon; I really like the campus that coach Mike (Mennenga) showed me. I will probably visit Kentucky, too."
RIVALS' REACTION
King is one of the more talented prospects in his 2018 class. While he still remains outside of the top 30 of the rankings, his upside is evident. If he can become more consistent with his effort and production, his name should rise even further.

Selecting a college sometime in the fall, King should have the pick and while St. John's and Syracuse might have the best shot with him now. If Kentucky offers, look for the Wildcats to win this battle, their first recruit out of New Jersey since Isaiah Briscoe.