Four-star Kevin McCullar down to a final five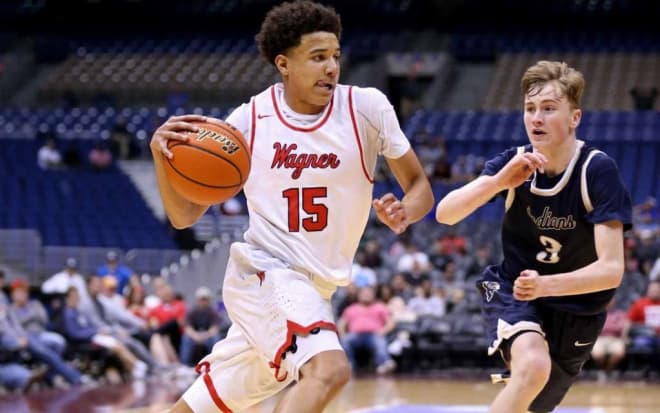 Four-star guard Kevin McCullar has trimmed his list down to a final five of Houston, Kansas State, Minnesota, Oklahoma or Texas Tech.
"It was just having the relationships that I have with these coaching staffs. I am just looking for the right fit and a place that I can come in and make an impact at right away," he said. "These relationships that I have with the coaches were big and I just wanted to get it done and make it official."
IN HIS OWN WORDS
Houston: "Coach (Kelvin) Sampson is like a legendary coach. I like his coaching style. He told me that I could come in and be an impact right away and be his point guard. He develops a lot of guards and with Rob Gray and what he did with him was big."
Oklahoma: "Coach (Lon) Kruger is a good coach; I have a strong relationship with him. He develops good guards, also. They were my first power five offer so they have been with me for a while."
Minnesota: "They showed me a lot of interest. Coach (Richard) Pitino and coach (Ben) Johnson, their assistant, they really want me to come in and play right away. They always come down and visit me and have always wanted me; they have a good vision for me there."
Kansas State: "Coach (Bruce) Weber is on me tough. He is a good dude and I have a really good relationship with him. He visits my school a lot. He wants me to come in and have the ball in my hands a lot."
Texas Tech: "I like how he (Chris Beard) has transformed Texas Tech basketball. I like his coaching style and how he is having a lot of guards playing. He was telling me before the game against Villanova he wants me to come in and be his point guard. He is on me pretty tough.
"It is good to have him talk to me before such a big game. Coach Weber was doing the same thing, texting me before the game; it just means a lot for them to do that."
WHAT'S NEXT?
McCullar is shelved until July as he recovers from a fractured tibia. From there, he will be found on the adidas circuit alongside top-five junior Charles Bassey with Yes II Success.
When it comes to picking a college, McCullar does not have a firm timetable.
"I have visited (unofficial) all of the schools except Minnesota. I don't know yet about my (official) visits," he said. "I need to talk with my parents and see about that stuff but I don't have a timetable for things yet."
RIVALS' REACTION
McCullar is the definition of a multi-positional prospect that can defend, make shots, create for others and rebound. He is set on playing the point guard position in college and each finalist has sold him the idea of playing that spot at the next level.
There does not appear to be a clear-cut leader in his recruitment, and he will likely take his visits later this year. McCullar could take his recruitment into the summer before coming to his final decision.