Four-star Jones beginning his official visit tour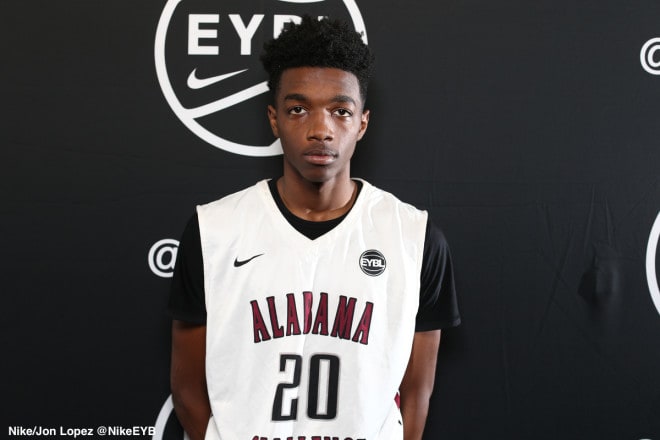 Four-star shooting guard Herb Jones was flying under the recruiting radar until earlier this year. Once he began playing with the Alabama Challenge in the Nike EYBL, high-major programs began taking him more seriously as a prospect.
After a productive July, Jones earned offers from several programs throughout the southeast. He's taken unofficial visits to Georgia and Georgia Tech during June, and begins the official visit stage of his recruitment this weekend.
IN HIS OWN WORDS
Jones shared what stands out about some of the schools recruiting him hardest.
Auburn: "The recruiting class they brought in is really good. They told me I could come in and replace T.J. Dunans and said I could come in and play as a freshman."
Alabama: "I really like the way coach Avery (Johnson) is talking about playing faster. He said last year they didn't have the players to play fast, but he said they will be better this year."
Florida: "I really like the way they play upetempo. I haven't done much research on their roster just yet."
Georgia: "I really like the way they use their players. I researched them a little bit and saw somewhere they are ranked number one in player development, so that's a plus."
Georgia Tech: "They told me the same thing Auburn did that I can come in and either start as a freshman or get really good minutes. I really like Coach Pastner. He's straightforward and very honest."
WHAT'S NEXT?
Jones is officially visiting Auburn this weekend. He's scheduled to visit Florida next weekend as long as he doesn't take the ACT. Alabama will host him at the end of September, while Georgia and Georgia Tech are in line to get his final two official visits. He plans to take all five official visits before committing in middle or later in October.
RIVALS' REACTION
Jones doesn't give much away about which way he's leaning in his recruitment. Depending on who you talk to, you will hear some say he's intent on leaving the state of Alabama for college and others will tell you no chance he leaves. Like with any prospect, official visits will likely play a big role in determining where he ends.