Four-star Hammonds prepares for official visits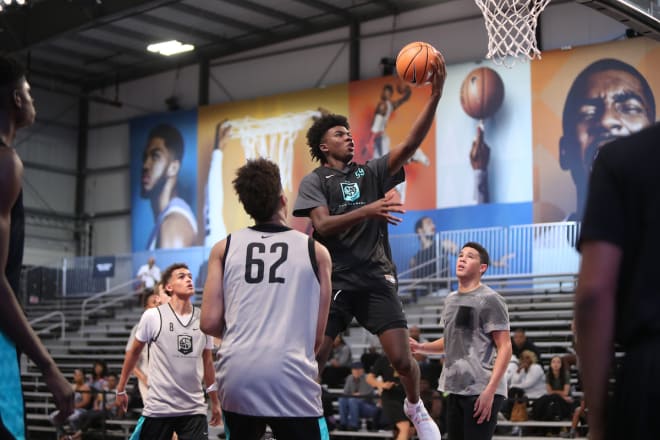 Rayshaun Hammonds, a four-star forward out of Georgia, has reeled in offers from all over the country the past couple years. Coming out of the last July recruiting period, he put out a list of the 14 schools he was most serious about. A few weeks ago, he whittled it down to nine with Alabama, Georgia, Georgia State, Georgia Tech, Miami, Memphis, Texas, UConn and Western Kentucky still in the mix.
Last weekend, he took his first official visit to Memphis and he has upcoming visits planned for Miami, Alabama and Texas.
IN HIS OWN WORDS: Hammonds discussed his Memphis visit and what he likes about some of the other schools recruiting him.
Memphis: "It went really well. They just showed me the academics, the city, and how much the fans there love Memphis basketball. They took me around their facilities and talked to me about how I would fit in there next year."
Miami: "I like their program. Coach (Jim) Larranaga knows what he's doing. He knows how to develop players. I'm just waiting to take my official visit there to see more about them."
Alabama: "Coach Avery (Johnson), he's rebuilding there so it's going to be a journey when I would come in. They are recruiting a lot of the players I know."
Texas: "Coach Shaka (Smart), he had a good year last year and he has a good class coming in. He's got two power forwards in my class. He's trying to win a national championship there."
Georgia: "I've known the coaches there for a long time. They have been recruiting me since my sophomore year. They are good coaches. I've been down there a few times for practice and unofficial visits. I like how it's going there."
Georgia State: "They are still a possibility. I've known the coach there the longest. I know RJ Hunter and I know a lot of players that used to play there. I know a lot about them."
WHAT'S NEXT?: The next trip for Hammonds will be down to South Beach to check out the Miami Hurricanes. Later in October, he'll head to Tuscaloosa for a visit with Alabama. He also has one planned for Texas in November. He has not decided who will get the final official visit. In the past, Hammonds talked about waiting until the late signing period, but now it seems more likely he'll decide early.
RIVALS' REACTION: Visits will play a big part in his decision. Memphis took their shot and now Miami, Alabama, Texas and one other lucky program will have their turn to impress the Georgia native. Alabama and Texas seem to generate the most buzz when asking about his recruitment, but Hammonds genuinely seems open to all schools on his list.