Four-star guard David Duke is wide open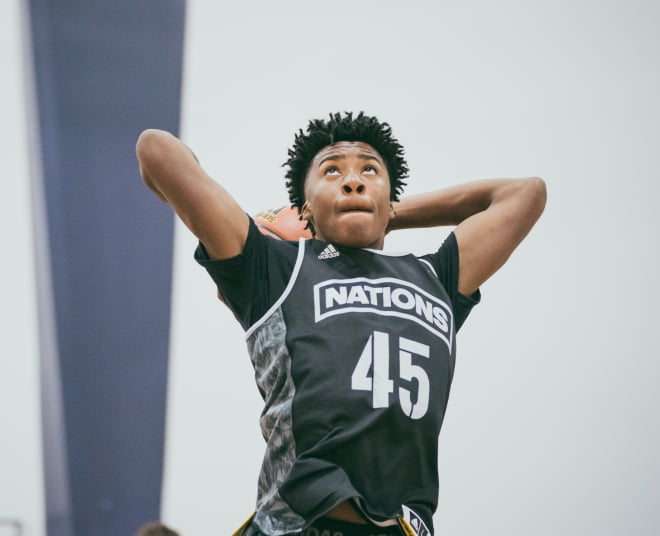 HOUSTON – This time 15 months ago, David Duke didn't hold a single Division I offer. Now, the 6-foot-4 playmaking guard has cemented his status as a Rivals150 prospect as he enters his final year of high school basketball.
Friday at the Adidas Nations event in Houston, Duke showed that he is not just a one-sided contributor. A ball-hawking defender that is more about making others better than he is about looking for his own shot, Duke spoke on his emergence onto the national scene.
"I don't even know how to explain it," he said. "It has just been hard work and not even worrying about the negative stuff going on but just focusing on where I want to go and having that vision."
Duke has picked up offers from Syracuse, Wake Forest, Virginia, Villanova, UConn, Kansas, Florida, and Providence, among others.
IN HIS OWN WORDS
Duke spoke further on a few of those programs in pursuit.
Providence: "They are a good school. Coach (Ed) Cooley is a good guy. It is the hometown so you can't go wrong with that."
Villanova: "Coach (Jay) Wright said that when I come in, they would have an open point guard spot, so it is a great opportunity there and it is a great school, both academically and athletically."
Florida: "Coach Mike White and coach (Darris) Nichols are both good dudes. They keep in contact a lot and show me what they are doing down there. They have always told me that I am a top priority and it is always good to hear that."
Virginia: "Coach (Tony)Bennett is a good dude and it seems like whichever choice that I make, he wants me to go somewhere that I fit and is best for me. Their school too, is a good one, and it is in the ACC."
Kansas: "Just hearing the name you know it is a big-time school. They win a lot, which is a good thing, and you can just tell that they know what they're doing. Coach (Bill) Self is a good coach and those guys are really good over there."
WHAT'S NEXT?
Duke will finish up his time in Houston this weekend at the Adidas Nations event before beginning his senior year at Cushing Academy this fall.
While his recruitment could finish up with a signing in November, things remain open.
"I don't have a cut list right now. I am still wide open," he said. "I will probably narrow it down in the fall. There is still a lot of stuff going on and I am just trying to enjoy the process."
RIVALS' REACTION
Duke is the type of guard that any high-major coach would love to get ahold of. He is someone that looks for others before himself, is more than willing to defend the opposing team's best offensive weapon and is an explosive, good sized player that can play various positions on the perimeter.
He has not trimmed his list yet, but Providence has remained a favorite for the past several months. Others, including Villanova, Virginia, Florida and Kansas, have also gained some traction.