Four-star D.J. Carton recaps recent visits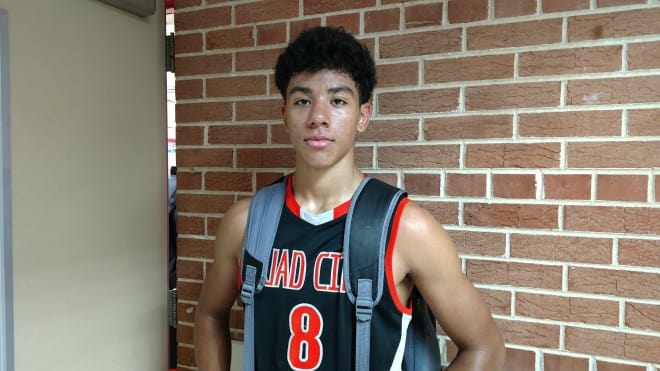 Four-star point guard D.J. Carton had to take on a different role for his high school team this season. With some of the leading scorers from last year's team no longer on the roster, he had to balance being a great point guard with taking on more of a scoring role. Along the way, he led his team to the sub-state semifinals, and averaged 26 points, seven rebounds and four assists per game.
Carton has been a popular target of college coaches in the Midwest going back to last summer. He mentioned Ohio State, Indiana, Iowa, Illinois, Marquette, Wisconsin, Missouri, Creighton, Virginia, Wake Forest, USC and Michigan as schools he's been in contact with recently. Illinois and Ohio State are the most recent schools to join the mix. He took visits to Indiana, Iowa and Missouri during this season.
IN HIS OWN WORDS
Carton talked about his recent visits and what he likes about some of the schools involved with him right now.
Illinois: "I went there for a game. I talked to their coaches a lot and hung out with the players at practice. They were talking about how they have a great recruiting class coming in and how they want to go guard-heavy. They've been recruiting me hard lately."
Indiana: "It was fun visiting there. I really enjoyed it. The environment was something I had never seen before. For a team that wasn't having the most successful year, they had a great crowd for the game against Purdue and fought hard. I had a really good time talking to the coaches and meeting the team."
Iowa: "I have a good relationship with Iowa. I talk with them a lot. I have a good relationship with the team. I know a lot about them and how they have good players coming in and a bright future."
Iowa State: "They came to a couple games this season and a couple open gyms this season and wanted me to come visit, but I just couldn't make it work. I'm probably going to go there soon. They are getting better and better as the season goes on. I'm looking forward to meeting the whole coaching staff and the team."
Ohio State: "I plan to visit them soon. I'm looking forward to seeing everything there and meeting the coaches and the team. They are having a really good year. They grew in a lot of ways. I feel like Coach (Chris) Holtmann is doing a great job so far."
RIVALS' REACTION
With his season now over, Carton will start to move forward with taking more visits to schools he hasn't seen enough of yet. He mentioned Iowa State and Ohio State as two schools he will likely visit and there will likely be others as well.

He'll play out his final travel season with Quad City Elite and then hopes knock out a decision at some point before the early signing period in November. Right now, Iowa is probably the school he's most familiar with, but that won't stop other schools from trying to pry him away from the Hawkeyes.