Four-star Qudus Wahab discusses finalists before Thursday announcement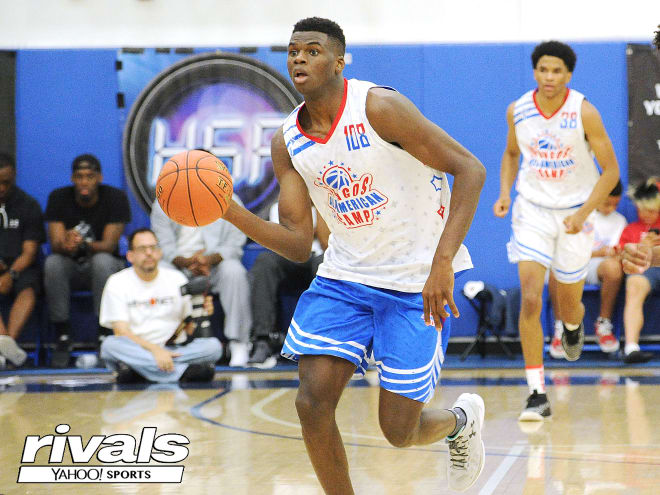 FAIRFAX, Va. – The recruiting process as hit its final days for Qudus Wahab. The four-star prospect will make his college decision on Thursday, choosing from a group consisting of Georgetown, Pittsburgh, Syracuse, UConn and Virginia Tech.
The 6-foot-10 center, valued most for his energy, toughness and abilities around the basket, is ready to call it a day.
"I just feel like I am ready," he said. "I visited all of the schools officially and I just think that I am ready to do it."
IN HIS OWN WORDS
Georgetown: "It is really close, which is one advantage. Coach (Patrick) Ewing has said he is going to get me right and with him being a big man, too, and I am going to get the ball. He talks about Jessie Govan a lot and how I am going to be able to do the same stuff as him."
Pittsburgh: "They just said that they really need me and that they would have loved for me to come and play for them this year. They said that I should come and that they have been recruiting me hard and to come to Pittsburgh. Whenever I went on my visit there, they made me feel at home. I have become used to them since they have been recruiting me and talking to me every day. They are really good guys."
Syracuse: "They said that I could come and make an impact right away. They are losing their senior big man, Pascal Chukwu, next year and I could come in and fill that spot. They really want me to do that for them. They just keep saying how bad that they need me. They are pretty good guys."
UConn: "They made it clear that they want to get me and Akok Akok to come there. They said that I can come there and make an impact right away and that I could be their next great big man. They made that clear right from the beginning. They said that I could be the next big-time guy that could come there and do it in three years, finish up my school work and go play somewhere professionally. They have a plan for me."
Virginia Tech: "They said that I am the last guy that they are looking at for this year. They told me that it is going to be a nice fit for me and they have four players coming in and they need a big so it could be a very nice place for me.
"My relationship with him (Buzz Williams) is much different than it is with the other coaches recruiting me. I feel like he is a good man and he just tries to think of what is best for his guys every time. I feel like he is just a great man."
RIVALS' REACTION
Where Wahab ultimately ends up remains up for debate as he has not tipped his hand. The program that earns his verbal commitment Thursday will be adding a ready-made rim-runner that can protect the basket, rebound, finish and has an improved mid-range game.