Four-star Burns appears headed for finish line in recruitment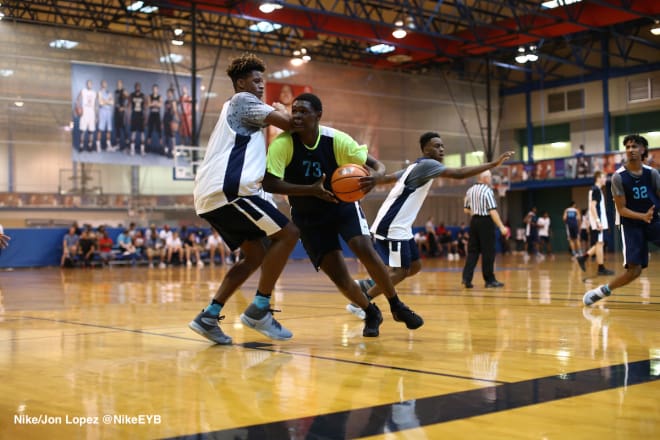 D.J. Burns had a great junior year at York Prep and wasted no time putting in work with the Georgia Stars as they started their season at the LakePoint Tip Off Classic last weekend. The 6-foot-9 post player out of South Carolina is impossible to defend on the block right now with his combination of a big, strong body along with great foot work and soft touch.
Burns said the schools he's been talking to the most lately are Georgia, Georgia Tech, Ohio State, South Carolina, Tennessee and Virginia. He's been on campus multiple times at Georgia, Georgia Tech, South Carolina and Tennessee.
IN HIS OWN WORDS
Georgia: "I haven't talked to the new coach yet. I talked to Jonas Hayes the other day and he's just been telling me how the team is still getting adjusted to the new coach and checking in on me."

Georgia Tech: "I talk to Josh Pastner a lot. He's been giving me a lot of information about the school. I've been there a few times and I like it."
Ohio State: "They started recruiting me about a month ago. They've just been giving me information on their school and telling me about their basketball program."
Tennessee: "I like them a lot. I like the way they run plays for the post players. Everything they do starts with their post players."
Virginia: "I like Virginia. I like the way they play. They have done a great job there."
RIVALS REACTION
Burns admitted he's not terribly far from a decision. He also admitted he's down to a couple schools, but wouldn't spill the beans just yet.

With an official visit set for Tennessee along with the fact he's already been on its campus several times, it's hard not to call the Volunteers the favorite here. Rick Barnes and his staff locked in on Burns early and appear to be closing in on the finish line. The other school to potentially watch here would be Virginia if it finds a way to get him on campus.