Four hoop stars stand above the rest for 2004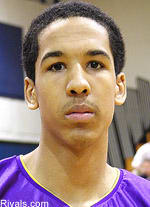 During the first three months of the AAU season, four prospects have emerged as the nation's elite for the class of 2004.
Baton Rouge, Louisiana native Glen Davis (6-foot-8, 334-pounds) emerged as a dominant post player in April at the Texas Classic. Davis, relatively an unknown going into the summer, led his Sports Academy team to the Kingwood championship where he received MVP honors. The following weekend Davis proved he was no one hit wonder with a strong showing at the Kingwood Classic.
The nimble big man's game is simple; plant himself on the block, stick out his mitt, seal his man off and finish strong. But his skills do not stop there, he also possesses a soft touch on his jumper with range from 10-feet and in. His size and strength make life extremely difficult down low for defenders.
LSU is the early leader for Davis, who also is a highly recruited football player, with Florida and Miami also receiving interest.
Atlanta has become a hot bed for high school basketball talent and this year Dwight Howard, from Southwest Christian Academy, carries the honor of being Georgia's top prospect. Howard (6-foot-10, 225-pounds) has been considered one of the top players in his class since his freshman year and his play this summer has solidified his reputation.
This past weekend during the Tournament of Champions, Howard proved to be a versatile player, displaying a strong low post game and also the ability to step out and knock down the jumper. Defensively, Howard is a good leaper and uses his long arms and anticipation to rebound and block shots. His strong play helped lead his Atlanta Celtic team to the final where they fell to Pump-N-Run.
Howard has a long list of favorites with Duke, Florida, Florida State, Georgia, Georgia Tech, Indiana, and North Carolina being considered. However, the possibility of Howard being a 1st round draft choice out of high school is there and the NBA could factor into his decision.
Al Jefferson (6-foot-10, 280-pounds) has continued his impressive prep career, which began as a 9th grader at Prentiss High School in Mississippi. So far during the AAU season, Jefferson has dominated his peers while touring with the Jackson Tigers, including this past weekend at the Memorial Day Classic held in Bloomington, Indiana.
Blessed with an NBA physique and explosive leaping ability, Jefferson is a post player who simply out muscles his opponents on the low block. With deceptive quickness and a solid post arsenal, Jefferson uses his size and strength to get position in the paint. He also runs the floor well and finishes well in transition.
Recently Jefferson named Arkansas as his leader with Alabama, Florida, Florida State and LSU also in contention for his signature.
In recent weeks RivalsHoops top rated point guard, Shaun Livingston (6-foot-6, 170-pounds) from Illinois, has shown that the only thing that could slow him down was a foot injury in the Texas Classic. However, this weekend, while leading his Ft Sooy AAU squad at the Tournament of Champions, Livingston left no doubt that no only was he fully healthy but he was playing better than ever.
With his several highlight reel passes and high-flying dunks, Livingston proved to be perhaps the most entertaining player in the tournament. His outside shooting also showed his wide range on the offensive end and his height advantage created several mismatches for opposing teams.
Arizona, Duke, Florida and Illinois have emerged at the top contenders for Livingston in what is sure to be a heated recruited battle from some of the nation's top programs.
While Davis, Howard, Jefferson and Livingston have made the strongest cases for the nation's top prospect honors, there are several other players who could move into this list as the summer continues.