Forrest and Isaac stand out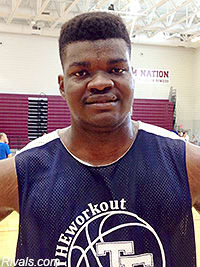 TALLAHASSEE, Fla. -- Saturday marked the first Florida Panhandle Showcase, a six-team event held at Tallahassee Godby High School and presented by Source Hoops. Rivals.com was in the building, here's a look at some of the standouts like 2016 four-stars Jonathan Isaac and Trent Forrest.
Trent Forrest can take over a game
Four-star junior shooting guard
Trent Forrest
of Chipley (Fla.) High already has a college ready body. On Saturday, he showed what a load he will be once his jump shot becomes a bit more consistent. Even without a consistent jumper from deep, Forrest is still capable of getting a lot done.
His handle is solid under pressure going either direction. Forrest plays under control and has great court vision that allows him to deliver the ball to his teammates on target. The No. 75 in the 2016 class, Forrest finished the day with 27 points (19 in the second half), 10 rebounds, five steals, two blocks and one assist. Had his teammates knocked down some open looks from him, Forrest would easily have had eight assists against Tallahassee (Fla.) Godby.
Isaac enhances his status
Hollywood (Fla.) International School of Broward small forward
Jonathan Isaac
struggled to score in the first half thanks to the combination of good defense by Panama City (Fla.) Rutherford and not knocking down open looks when he did get them, but the second half was a different story.
Isaac finished with 17 points, all in the second half, keyed by attacking the rim for his first two buckets. The No. 50 ranked prospect in the 2016 class, Isaac has good length and quickness but needs to add more bulk to his lean 6-foot-8 frame. Isaac recently took an unofficial visit to
USF
while
Florida State
and
Mississippi State
have been very active with him.
Wake Forest
recently offered.
Mississippi State commit has good day
This is the first season that senior power forward
Joseph Struggs
is starting for Montgomery (Ala.) Carver and he has settled into his new role nicely.
A three-star prospect, Struggs has a nose for the ball and good timing, which allows him to be a good a shot blocker. Offensively, he is elusive, can put it on the floor for four or five dribbles and has a nice mid-range jumper out to about 12 feet. Struggs runs the floor very well and has some bounce that he showed on a block that he almost pinned against the backboard. The 6-foot-8, 212-pounder didn't shy away from contact either.
On Saturday, Struggs looked like a good long term prospect for
Mississippi State
. As he extends his jump shot to the three-point line and develops a low post move or two, he could develop into stretch four man capable of playing some pick and pop for the Bulldogs.
Unheralded guards shine
Senior
Josh Wade
of Panama City (Fla.) Rutherford looked like a skilled shooting guard that can score in a variety of ways. He used the jab step very effectively to get his defender off balance, showed very good end toend speed, good quickness, better than average athleticism and a very good motor. He scored at all three levels and played within his team's system. Defensively he was very solid as well. He guarded the previously mentioned Isaac and held him scoreless in the first half. Wade told Rivals.com that he currently has no offers, but is getting interest from Florida Gulf Coast,
Tulsa
and Troy. He finished with a game high 27 points.
International School of Broward point guard
Anfernee Munnings
is in his first season with ISB and has already become an extension of his head coach on the court. Munnings showed the ability and poise to lead his team when they were dealing with adversity in their game against Pensacola Rutherford. This was Rivals.com's second viewing of Munnings and he hass shown that he knows how to control tempo, has good court awareness, can go either way under pressure and keeps his teammates involved. He can get past most defenders, get to the rim and score, plus has three-point range (he had 19 points). Defensively the junior showed good lateral quickness in defending opposing point guards and kept them from penetrating to the rim. Munnings claimed interest from Arkansas State,
Alabama
and Florida State.
Azubuike struggles against zone
Jacksonville (Fla.) Potter's House Christian Academy's junior five-star center
Udoka Azubuike
struggled against Carver's 2-3 zone which left him scant room to maneuver inside. Compounding the issue, his guards guards weren't able to deliver the ball to him at the correct time for easy shots. Azubuike finished with 10 points in an overtime win but all of his points came on dunks and he missed all of his free throw attempts.
Had the 6-foot-10 junior who ranks No. 13 in the class of 2016 he made just one of those free throws, the game wouldn't have gone into overtime. That he scored only on dunks is also illustrative of how important it is for Azubuike to develop his footwork and add an effective jump hook or short jump shot moving forward. Following the game, Azubuike told Rivals.com that no schools lead in his recruitment.

Click
Here
to view this Link.
[rl]