Florida, Penn State, others locking in on scorer Noah Locke
A 6-foot-2 junior guard out of McDonogh School in Maryland, Noah Locke's ability to put the ball through the basket has drawn the eyes of Florida, St. Joe's, Providence and many others.
The younger brother of Kayel Locke, a one-time standout at UNC-Greensboro, the top-100 junior might not stand as big as his older sibling, but his recruiting profile has already sailed past him. Locke is more of an intellectual scoring guard that has an uncanny ability to score.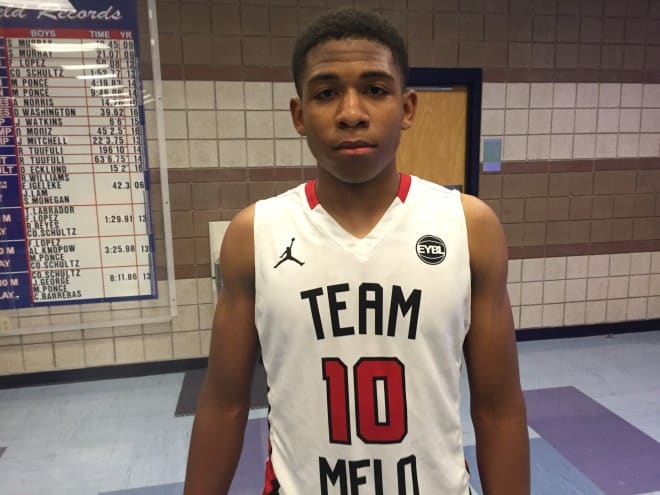 IN HIS OWN WORDS
Boasting extended length, excellent pedigree, a competitive mentality and a bevy of intangibles, Locke's recruitment is beginning to soar.
"Florida has been talking to me a lot, Xavier, Providence, St. Joe's, Butler and Penn; those are the ones really talking to me the most," he said.

On Florida: "I really like their style of play. They really let their guards go and it is just great to hear from them. The atmosphere that they play in, I just wish I could have been playing out there with them."

Providence: "I really like them. I like their coaching staff. They stay in contact with me. They really make it known that they want me to come there. They seemed like a family when I went on a visit."
Penn State: "I haven't really talked to them lately but they're a really big program. They're a big-time football school with big facilities and everything. Overall, I think it is a good school. I do know that I am still on their mind even though we haven't talked much lately."
WHAT'S NEXT?
Hitting the Nike EYBL circuit this summer with the Team Melo travel program, Locke will attempt to establish himself as one of the best scorers. When it comes to decide on a school, he has a few things that he wants.
"I just want an overall good fit where my parents and family want me to go and know that I fit well," he said. "Not too big of a campus but the right size, great coaches that will push me every day and players that welcome me in like a family."

A college decision is likely to take place in the fall, though he remains uncommitted on the exact time frame for one.
"I will probably cut my list down by the end of the AAU season. I am not sure about the timetable for my decision, though," Locke said.
RIVALS' REACTION
Thanks to Locke's ability to shoot at a high clip, added length in defending more than one position on the perimeter and improved playmaking skills, the junior's stock will only rise this spring and summer. Look for Florida and Providence to do their best to separate themselves.