Five-star Wendell Moore on track for a November signing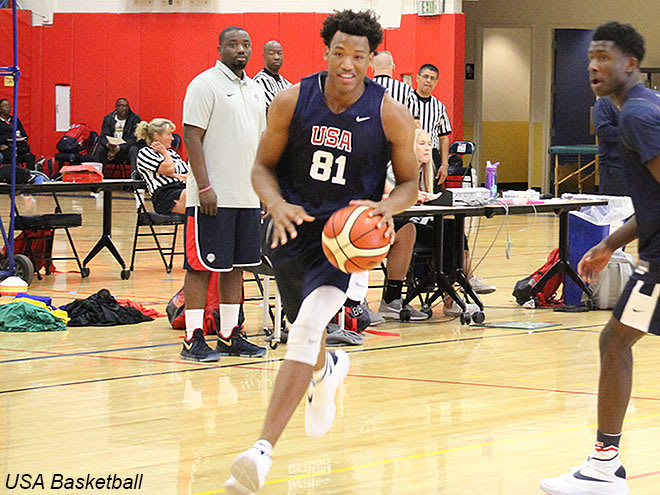 COLORADO SPRINGS, Colo. – Wendell Moore, the top-ranked 2019 prospect in North Carolina, has continued to show why he is so highly regarded during his time at the USA Basketball under-17 trials this week. The 6-foot-4 wing, who can play a variety of positions on either end, recently cut his list to a final five.
Duke, North Carolina, Wake Forest, NC State and South Carolina made Moore's final cut and he has scheduled four official visits. He hopes to make a decision before his senior high school season begins.
IN HIS OWN WORDS
Duke: "It is a great program. They are known for their history and legacy in terms of what they do with their guys. I have a great relationship with all of their coaches."
North Carolina: "A great program with a great history and with a great coach. It is just a fun place to be around."
Wake Forest: "Coach (Danny) Manning has done a great job. I have talked to at least one coach a day from Wake Forest and if it isn't him, it is coach (Steve) Woodberry or somebody else. I think they have done a great job of recruiting me."
NC State: "I talk to them very often. Coach (Kevin) Keatts does a great job with his team, especially with what he did last year and how he turned that team around. He has done it really quickly."
South Carolina: "That is a great program, too. Coach Frank Martin has done a great job with his program in the past few years and has taken them to the Final Four. He kind of struggled this past year but they had some good spurts and he turned that program into a winning one."
WHAT'S NEXT?
Moore has already scheduled four of his official visit dates.
"I have NC State on Sept. 1, South Carolina is on Sept. 8, Duke is on Sept. 22 and Wake Forest is on Sept. 28. I am still working on the UNC date," he said.
From there, Moore is hoping a commitment won't be too far off.
"I want to do something in the fall; that is what I am aiming towards, if possible. If I have everything done by then, I want to do it in the fall so that I can focus on my high school season"
WHAT'S NEXT?
The state of North Carolina has become known for producing some of the very best talent for the college game. Thanks to the attention and platform that the state has come to offer, attention has not been hard to come by for Moore and he has continued to solidify his standing as one of the best perimeter prospects nationally.
A versatile wing that can shoot, defend, rebound and distribute, wherever Moore ultimately ends up will add an immediate presence on both sides of the floor. Look for a visit date for North Carolina to be cemented in the coming weeks as all visits should be concluded by mid-October, leading to a signing in November.