Five-star Trendon Watford cuts list to four, sets commitment timetable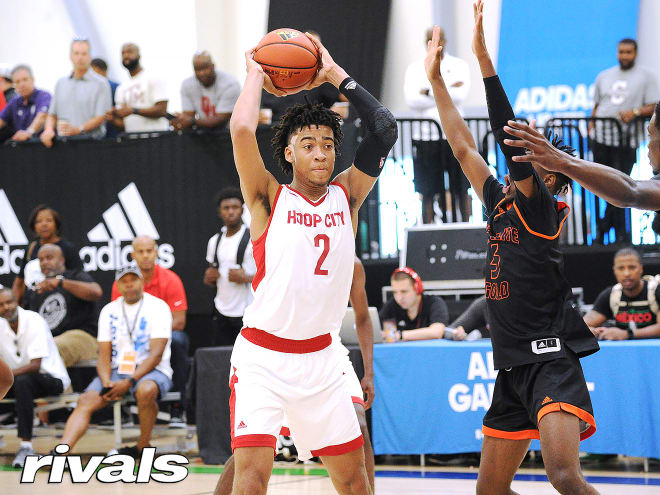 The final step has been taken by Trendon Watford as he gets closer to making his college decision. One of the top prospects available this winter, the five-star forward has cut his school list one last time with an official visit scheduled for the coming weeks.
Slated as the 17th best prospect in America, Watford is now focused on a school list that consists of Alabama, Indiana, LSU, and Memphis. He told Rivals.com why it was time to trim his list another time. "I feel like, with my last list at eight, I feel like these are just the right four for me," he said.
IN HIS OWN WORDS
Alabama: "They were really the first school to start recruiting me. Coach Avery (Johnson), I like him a lot. They have been down with me through this all and there is a lot of loyalty and I like what they are doing there."
Indiana: "It is like a second home to me. I have been up their multiple times. My brother (Christian Watford) played there and there is a big family connection. I love what Coach Archie Miller was saying during my in-home visit. I just love what he is doing now."
LSU: "I took my official visit last month and I enjoyed it. I hung out with the guys and I like how they all are. Coach Bill Armstrong, he is real cool and I have known him for a long time going back to when he was at Ole Miss. I just like what they are doing right now and they are going to be one of the top SEC teams this season."
Memphis: "I like what he (Penny Hardaway) is doing with the team now. He still has some of Tubby's guys in there but I like how they are playing and whenever I went down there during my official visit, they were really welcoming and all of the players they were all pretty cool. James Wiseman and DJ Jeffries, they text me pretty much every day or two."
WHAT'S NEXT & RIVALS' REACTION
Having already taken official visits to LSU and Memphis, Watford will take his third official visit to Alabama on the weekend of Jan. 5. From there, a visit to Indiana remains in the works. "I was trying to visit there for their game against Louisville but I ended up having a game but we just having to plan out a time according to my season," he said. "We will find a date, though."
From there, expect a commitment before the spring. "If not late February, then early or mid-March," he said. "Probably right after my high school season."
Watford is a super talented and versatile forward that can take on a point-forward role for his team. He is a skilled passer that can score from each level but has the length, strength and toughness to guard all three frontcourt positions.
Wherever he does choose, the respective program will enroll one of the more college ready prospects from the 2019 class and someone that should impact it from day one.